The Vanderbilt Center for Science Outreach puts science in the hands of students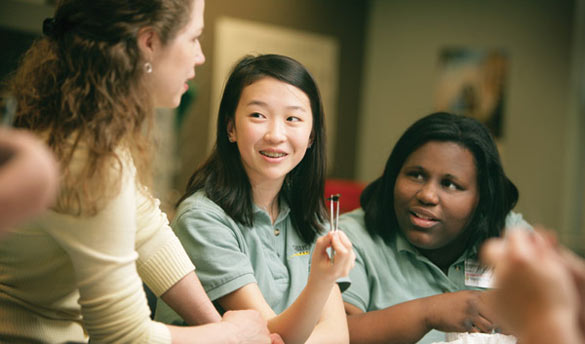 They treated him like a rock star, said scientist David Boone. "They" are Nashville public middle school students. Boone, a Ph.D. candidate in cell and developmental biology at Vanderbilt, regularly taught in their classrooms as a science teaching fellow, part of the Vanderbilt Center for Science Outreach's Scientist-in-the-Classroom Partnership.
"I felt that the students respected me and trusted what I said because they looked at me as a scientist and not as a teacher," Boone said. "I found that during one-on-one and small-group instruction, the students felt free to be inquisitive, to ask questions that they otherwise may not have asked, and to really come to an understanding of what we were working on."
For two decades, the Center for Science Outreach has brought innovative programs supporting science and math education to public schools in Nashville, changing the lives of countless students, teachers and Vanderbilt scientists along the way.
Getting Started
The Center for Science Outreach was sparked in the early 1990s when Professor of Pathology Virginia Shepherd began building a coalition of Vanderbilt faculty interested in bringing K-12 teachers to campus for workshops and professional development. Funded by small state and local grants, they soon partnered in the effort with other schools across the university.
Vicki Metzgar was a Metropolitan Nashville Public Schools science teacher who regularly attended these professional development sessions. In the late-1990s, she was selected as a teacher-in-residence at Peabody. She was partnered in her residency with Shepherd, who became a mentor.
"That year I wrote an Eisenhower grant to fund a summer science camp for middle school girls, because we know that's the age girls start to drop off the radar in terms of science education," Metzgar said. "The grant actually didn't get funded, so Ginny (as Shepherd is known to colleagues and friends) took the proposal to Vanderbilt's chair of medicine."
In 1999, the Girls And Science (It's A Gas!) Camp was established at Vanderbilt; it is still in operation, ready to host its 12th session this year. For several weeks each summer, rising eighth- and ninth-graders come to campus to participate in activities designed to engage them in science investigation, foster confidence in science achievement, and encourage them to enroll in science courses in high school and beyond.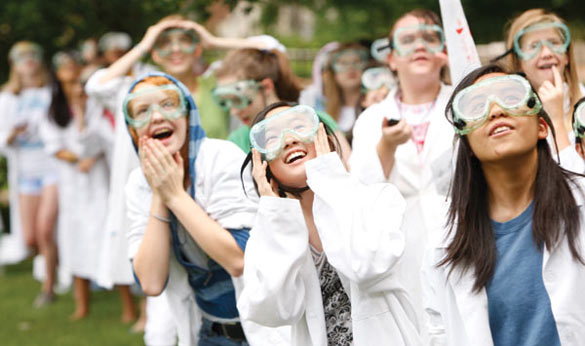 The camp has been "wildly successful," Metzgar said, receiving applications each year from more students than it can accommodate. A camp for male students, Boys Exploring Science and Technology, was added in 2004.
The camps made Vanderbilt's science outreach efforts known in Nashville households. The next step was to make them known in Nashville schools. In 2000, Shepherd's office won funding from the National Science Foundation to develop a program that would deploy graduate students – mostly Ph.D. candidates – in science, technology, engineering and mathematics to Nashville public school classrooms.
The Scientist-in-the-Classroom Partnership pairs science teaching fellows from Vanderbilt, Tennessee State University, Meharry Medical College and Fisk University with middle school teachers one day a week throughout the school year. The teams collaborate on lesson plans and hands-on, inquiry-based activities, with the fellows providing additional demonstrations and tutoring. Vanderbilt was one of the first institutions to implement this model, which is now in place at some 200 universities around the country.
The Science Education Dilemma
Science education in public schools presents some distinct challenges, such as limited class time and large class sizes, Shepherd said.
"It's impossible to do science in 45 to 50 minutes in a class with 30-plus kids and a single teacher," Shepherd said. "That's where Scientist-in-the-Classroom figures in so importantly." Teaching fellows in the program have served in 33 of the 39 middle schools in the MNPS system and partnered with 80 teachers, she said.
Metzgar – who since her classroom teaching days has served as the science coordinator for Metro Schools, as associate director of the Center for Science Outreach and on the education faculty at Western Kentucky University – agrees.
"Having two sets of eyes, two sets of hands, two sets of legs to walk around in a classroom of 30 kids is much better than having one – absolutely," Metzgar said. "More instructors are better. It helps with classroom management, with planning, with setting up and with instruction."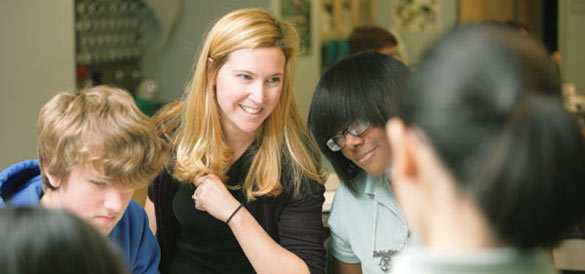 High Schoolers on Campus
After serving as a science teaching fellow at East Literature Magnet and Bellevue middle schools, for his third and final year David Boone partnered with another Center for Science Outreach program: the School for Science and Math at Vanderbilt. Founded in 2007, this program brings high-achieving high school students to campus for advanced science instruction at no cost. Getting in the school is a bit like applying to college. Rising freshmen must submit their math and science TCAP rankings, letters of recommendation, write essays and undergo an interview process. Of the approximately 130 applicants each year, the school has spots for 26. Once accepted, these students will spend one day each week during the academic year and several weeks each summer in classrooms and labs on the Vanderbilt campus for the duration of their high school careers.
"You spend a whole day talking about just science and math," said Rita Pfeiffer, a Hume-Fogg Academic Magnet senior. "The school gives us a chance to communicate with other people who are passionate about science and just enjoy science in general."
The payoff for students is a university-level science education and even graduate-level research experience while still in high school. Boone worked with this year's sophomores, who have collaborated with Arizona State University researchers and NASA to direct satellites orbiting Mars to capture specific images of the planet in order to explore questions and hypotheses of the students' design. They also have cloned and sequenced a gene, GAPDH, from rare plant species and published their findings on the National Center for Biotechnology Information database. Others are studying the impact of urban lights on nocturnal animals.
"Here, you do research and ask your own questions, versus doing a lab in high school, where it's more of a textbook science," Pfeiffer said. "At the School for Science and Math, you make your own questions. In a way, it's a higher level of thinking."
This method is paying off, as SSMV students are distinguishing themselves among their national peers. Students are required to enter their individual research in both the Siemens Competition in Math, Science and Technology and the Intel Science Talent Search during their senior year. Of Tennessee's seven semifinalists in this year's Siemens competition, four are from the School for Science and Math at Vanderbilt. In the Intel competition, both Tennessee semifinalists are from
the SSMV.
The School for Science and Math at Vanderbilt is getting ready to graduate its first full senior class, said Amanda Dixon, admissions coordinator and MNPS liaison.
"The students have said to us, 'Even if we don't end up going into science, we feel more confident in our ability to talk to smart people,'" she said. "They have the ability to ask good questions and to think critically. Reflecting back over their four years here, they know that is a skill they've gained whether they apply it to science or to another field."
The Next Step
The School for Science and Math at Vanderbilt is now recognized as one of three advanced academic programs – along with Advanced Placement and International Baccalaureate – offered by Metro Nashville Public Schools. The School for Science and Math has been so successful that MNPS administrators tapped the Center for Science Outreach to integrate the model at Nashville's public schools.
As a pilot study this year, the Center for Science Outreach started the Interdisciplinary Science and Research Program at Stratford High School. About 55 ninth- and 10th-graders are enrolled in the elective class and are discovering science in hands-on ways.
"The small steps they're taking in terms of scientific discovery and exploration – many of them have never done this before," Shepherd said. "I think we're building an excitement, a tradition and a culture at Stratford that they haven't seen before."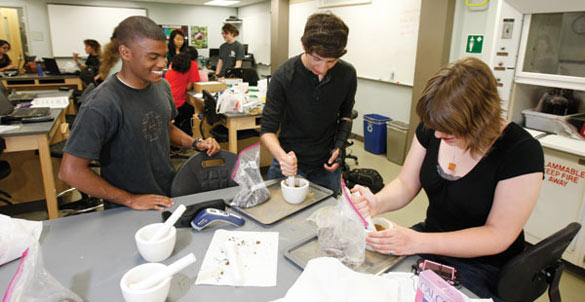 One of the class's noteworthy projects was a "body farm" using chicken carcasses for a unit on forensic science. The students simulated different conditions with the carcasses under which a person might die. They dressed one in a T-shirt to simulate the effects of decomposition on clothing, hung them above the ground and buried them to study factors such as insects and soil conditions.
Brian Harrell, a physical science and biology teacher at Stratford, partnered with Tiffany Farmer, a postdoctoral fellow from the Center for Science Outreach, to teach the class.
"It's sheer application – sheer outside-of-the-box thinking – and that's been great for the kids," Harrell said. "The students have maintained their excitement for the class throughout the school year because they feel incorporated in the learning process. This has truly been the best experience of my teaching career because of the collaboration (with Farmer), the support, and the fact that I'm getting the chance to appreciate the process."
This feedback bodes well as Metzgar, director of STEM initiatives for MNPS, and her team design curriculum for a new STEM magnet cluster at Hattie Cotton Elementary, Bailey and Litton middle schools and Stratford High School to begin this fall.
"Our task is to articulate STEM into our curriculum across all subject content areas – language arts, social studies, science, math – and to align it from kindergarten through 12th grade so that students who progress through the cluster will be pushed above and beyond the normal STEM content and be able to do, hopefully, extraordinary things," Metzgar said. MNPS also is working with the CSO to take the Interdisciplinary Science and Research Program to Hillsboro High School next academic year.
Changing Lives
Science education is opening doors of opportunity for the students at Stratford and the School for Science and Math in ways that will affect them long after high school. Science can do this – just ask Gerald Wakefield.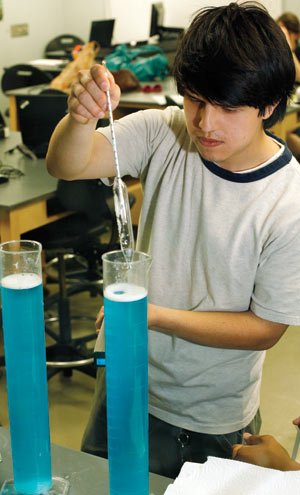 The Vanderbilt biological sciences major participated in a CSO-sponsored internship program as a Martin Luther King Jr. Academic Magnet student. He worked with researchers at the Vanderbilt-Ingram Cancer Center to study the effects of the chemical resveratrol, commonly found in the skin of grapes, on a diet high in saturated fats.
"What the CSO gave me was the chance to participate in the process in which new scientific knowledge is created and to learn how that information is relevant to society," Wakefield said. "As a result, I wanted to attend a university that would provide me with a future pursuing scientific research." After he graduates from Vanderbilt, Wakefield plans to pursue a career in the medical field specializing in cardiothoracic surgery or infectious diseases.
Graduate students who participate in the CSO's programs also find doors open to them beyond the academic research field.
"I have seen a lot more interest in teaching careers, either at the higher education or K-12 level, and more interest in careers setting policy for science and science education," Shepherd said.
Perhaps above all, the teaching fellows find connection with a new generation of young scientists and are reminded why they fell in love with science in the first place.
"I gained a sense of community by being a part of the Scientist-in-the-Classroom program," Boone said. "It was during this time that Nashville really became a home to me rather than a place where I was going to school.
"I feel I've learned a lot from the students," he said. "They have interesting and fresh perspectives not only on the science we are teaching them, but also on life in general. I discovered we have very bright students here in Nashville."
Additional photography by Steve Green