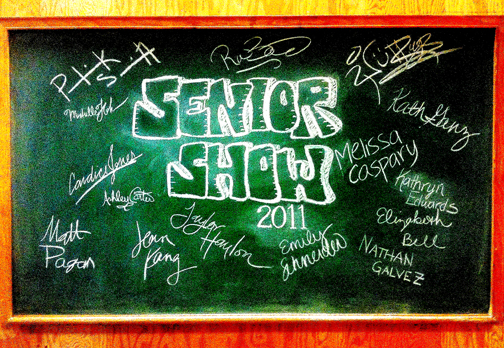 Space 204's first and second galleries are normally filled with the art exhibitions of regional and national artists. But each year in late spring, the massive doors are slid back and all four spaces are filled with the hard work of Vanderbilt University's senior studio art majors.
Vanderbilt University Department of Art is proud to announce the opening of Senior Show 2011. This annual exhibition by Vanderbilt's graduating art majors will be on display to the public from Friday, April 22, through Friday, May 13, in Space 204, the second floor gallery in the E. Bronson Ingram Studio Art Center, 25th and Garland, on the Vanderbilt campus.
A public reception will be held in the second floor rotunda that Friday from 4 to 6 p.m., with awards announced at 5 p.m..  Awards include the prestigious $25,000 Margaret Stonewall Wooldridge Hamblet award, the Allen P. DeLoach Award for Photography, Mid-South Ceramics and Plaza Artist Materials awards.
The 15 participating seniors include Rachel Bachtel, Elizabeth Bell, Ashley Carter, Melissa Caspary, Michelle Cohen, Kathryn Edwards, Nathan Galvez, Kathryn Ganz, Taylor Hanlon, Candice Jones, Jean Kang, Matthew Pagan, Will Rigby, Emily Schneider, and Patrick Smith.
"This is a hard working group of students and we expect great things when it comes to their Senior Show," said Mel Ziegler, chair of the Department of Art. "[rquote]We are all proud of the fact that a good many of our senior majors applied to professional schools related to art and architecture and because of their hard work, all got accepted.  It's exciting for all of us and speaks well for our program.[/rquote]"
In conjunction with the Senior Show opening, art completed spring semester by all Vanderbilt studio art students will also be on display throughout the art building during the department's Spring Open House that Friday, April 22, from noon to 6 p.m.
All Space 204 events are free and open to the public.  Gallery hours are 9 a.m. to 4 p.m., Monday through Friday, with special Saturday and Sunday hours of Noon to 4 p.m. for the duration of the Senior Show exhibition.
For more information, contact the Department of Art at (615) 343-7241 or
visit www.vanderbilt.edu/arts.