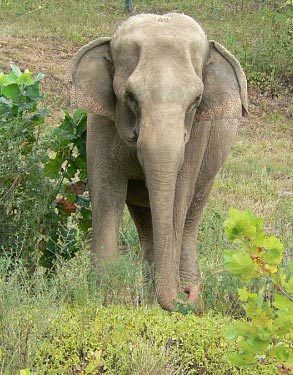 Circus workers, zookeepers and others having direct or indirect contact with elephants are on alert because of a study definitively showing that elephants can transmit tuberculosis to humans, the result of a cooperative investigation between the Tennessee Department of Health, the Centers for Disease Control and Prevention and Vanderbilt University Medical Center.
The study, "Elephant-to-Human Transmission of Tuberculosis, 2009," appears in the March issue of the CDC journal Emerging Infectious Diseases. It describes the 2009 outbreak of tuberculosis skin test conversions among eight employees at an elephant refuge in Tennessee.
Three infected employees did not have close contact with the elephant but worked in an administrative building near the barn where the elephant was housed and cleaned. Investigators believe the bacteria spread through the air either when the elephant sneezed or when the barn was cleaned with a pressure washer.
"Concern about TB transmission among humans and elephants was raised in the late 1990s and it was suspected that elephants gave TB to their handlers," said lead author Rendi Murphree, a CDC Epidemic Intelligence Service Officer and also a Vanderbilt University visiting scholar.
"[rquote]Ours is the first study to clearly document TB transmission from an elephant with TB disease to humans," Murphee said.[/rquote] Fortunately none of the eight infected employees developed active TB disease and the elephant is receiving treatment for her condition."
There are approximately 500 captive elephants in North America, with an estimated 12 percent having TB infection. Researchers said that estimate is likely low because detection methods are often inaccurate.
"There are culture methods and blood tests to detect TB in elephants but these methods often produce false negative results," Murphree said. "This means TB infection, or active disease, can't be ruled out if the test is negative. Therefore, guidelines for the control of TB in elephants rely on test results as well as the elephant's history of exposure to TB."
TB bacteria can often live in a person's body without causing illness because the body is able to fight the bacteria to keep it from growing.
When it does activate and begin multiplying, the TB disease can be very contagious and life threatening for both humans and elephants.
"What happened at the refuge is an unusual circumstance, but human tuberculosis is a serious and sometimes life threatening illness that we deal with every day in public health," Murphree said.
"This study will be of great interest to the captive-elephant community, which includes zoos, circuses and private owners," said William Schaffner, professor and chair of preventive medicine and a co-author of the study. "Much still remains to be learned about the diagnosis and optimal treatment of TB in elephants."