Media Inquiries
Latest Stories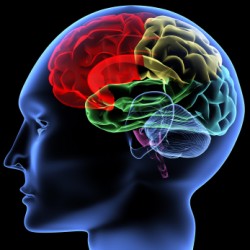 "Brainstorm 2011," a series of free public events about brain research hosted by Vanderbilt University, will explore post-traumatic stress disorder, depression and the mysteries of feelings and perception throughout the month of March.
The series begins Thursday, March 3, with "Pain from the Past: A Conversation with a Psychiatrist and a Scientist about Post-Traumatic Stress Disorder."
Paul Ragan, associate professor of psychiatry, and Carrie Jones, assistant professor of pharmacology at Vanderbilt, will lead the discussion from 7 p.m. to 9 p.m. in the first floor conference room at Vanderbilt Health One Hundred Oaks (entrance D).
The discussion is co-sponsored by the Vanderbilt Brain Institute and the Vanderbilt Center for Molecular Neuroscience.
Other events are listed by date below.
Saturday, March 5 — a "Brain Blast!" family fun event will be held from 11 a.m. to 3 p.m. in the theater (room 2210) of the Monroe Carell Jr. Children's Hospital at Vanderbilt. Hands-on activities will be led by Vanderbilt neuroscience undergraduates, graduate students and faculty. The event is co-sponsored by the Neuroscience Student Organization and the Vanderbilt Brain Institute.
Wednesday, March 9 — "The Mind's Eye," a description of the brain circuitry underlying visual perception, will be held at 4:10 p.m. in room 1220 of the MRB III building adjacent to Medical Center North. The discussion by David Leopold, chief of the Cognitive Neurophysiology and Imaging Unit at the National Institute of Mental Health, is sponsored by the Vanderbilt Vision Research Center.
Thursday, March 17 — "New Treatments for Depression: Keeping Neurons Alive, Healthy and Connected" will be discussed at 9 a.m. in room 898-B in the Preston Research Building adjacent to Vanderbilt-Ingram Cancer Center. The lecture by Ronald Duman, professor of psychiatry and pharmacology at Yale School of Medicine, is sponsored by the Vanderbilt Department of Psychiatry.
Thursday, March 24 — How gene expression and neurobiology contribute to Rett syndrome and other neurodevelopmental disorders will be discussed at 4 p.m. in room 208, Light Hall, across the plaza from Vanderbilt University Hospital. Huda Zoghbi, professor of pediatrics, molecular and human genetics, neurology and neuroscience at Baylor College of Medicine, will deliver this Vanderbilt Discovery Lecture, sponsored by the Vanderbilt Department of Pediatrics.
Wednesday, March 30 — "Mixed Feelings," how the limbic system of the brain governs "delight, desire and dread," will be discussed at 4:10 p.m. in room 1220, MRB III. Kent Berridge, professor of psychology and neuroscience at the University of Michigan, will give the lecture, sponsored by the Vanderbilt Center for Integrative and Cognitive Neuroscience.
For more information, including directions and parking, contact Steve Edminster in the Vanderbilt Brain Institute at (615) 322-3532 or steven.j.edminster@vanderbilt.edu.