---
Nathan Roberts, an 18-month-old patient from Snead, Ala., whose heart has been operating with the help of a mechanical assistance device called the Berlin Heart since May 27, 2010, received a donor heart early yesterday morning at Monroe Carell Jr. Children's Hospital at Vanderbilt.
Doctors say the transplant surgery went well, and Nathan is recovering as planned. Nathan is the first infant in Tennessee to receive the Berlin Heart, a device which has been manually pumping the left ventricle of his damaged heart for more than seven months while he waited for a donor organ. Nathan's transplant began around 8 p.m., Wednesday night, and doctors finished shortly before 4 a.m., Thursday morning. Nathan's cardiologist, Debra Dodd, M.D., director of Pediatric Heart Transplant, and her team continue to closely monitor his progress.
[rquote]"Overall, the operation was a big success[/rquote]," says Karla Christian, M.D., the lead pediatric heart surgeon who performed the surgery. "The new heart looked very happy inside Nathan's chest and it was working very well. It's a great heart and we hope it will last him a long time."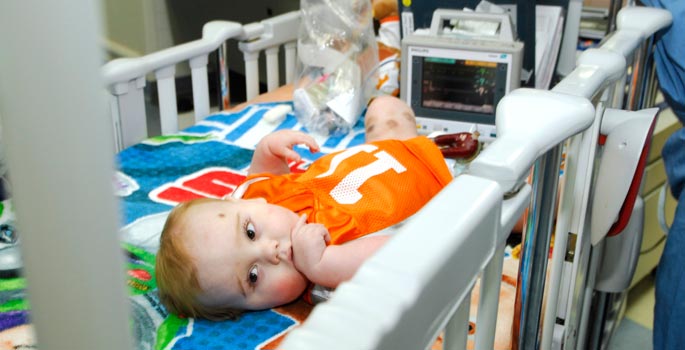 Christian says the transplant was essential for Nathan, who was on ECMO (Extracorporeal Membrane Oxygenation) for two weeks before Children's Hospital got the go-ahead from a federal review board last May to use the experimental Berlin Heart. The device, a smaller version of other left ventricular assist devices (LVADs) used in adults, is the only one of its kind for small infants and children, and it is not yet approved for widespread use by the federal Food and Drug Administration.
"We're thankful we had the Berlin device available," says Christian. "He wouldn't have survived without it. At this point, we are hoping he will have a long, happy life."
Nathan's mother, Amanda, has been by her son's side throughout his eight-month stay at Children's Hospital, and was all smiles Wednesday night when her family finally received news that a donor heart was available. She says "Bernie," the family's playful nickname for the Berlin Heart device, has served them well.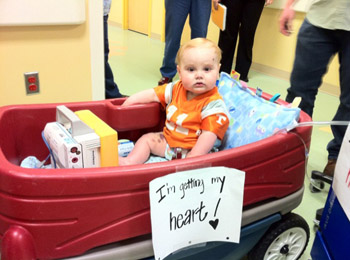 "He has saved Nathan's life. He has served his purpose, but we are more than happy to trade it in and bring Nathan home," she says.
Each year, more than 35,000 babies are born with congenital heart defects, and about 5,000 of them die, according to the National Heart, Lung and Blood Institute.
Christian says Nathan's success illustrates the fact that the Berlin Heart can be a very effective option for children with heart defects, depending on the circumstance.
"The Berlin Heart is essential to the survival of infants and young children who need long-term mechanical support prior to implantation," says Christian.
Watch a previous video about Nathan:
Read a story about when Nathan first got the Berlin Heart.
Also see a slideshow of "graduates" of the neonatal intensive care unit.