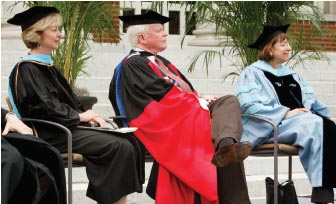 Brian Heuser, assistant professor of the practice in international education and public policy, will serve as a U.S. Embassy policy specialist in higher education for 2010-2011, researching higher education institutions of the post-Soviet region, with an emphasis on the Republic of Georgia.
Christopher Loss, assistant professor of public policy and higher education, is the recipient of the 2010 Peabody Award for Excellence in Classroom Teaching. Loss joined the faculty two years ago after receiving his Ph.D. from the University of Virginia.
Michael McLendon, associate dean and associate professor of public policy and higher education, in April presented the Edward Douglass White Lectures, a distinguished lecture series jointly sponsored by the Paul Hebert Law Center and the department of political science at Louisiana State University.
Torin Monahan, associate professor of human and organizational development and medicine, received a grant to study data sharing across public and private organizations responsible for monitoring homeland security. The National Science Foundation is funding the two-year project.
Laura Novick, associate professor of psychology, was appointed to a committee of the National Research Council that will conduct a comprehensive examination of learning and teaching in the sciences at the undergraduate level.
Matthew Springer, assistant professor of public policy and education, was named a fellow in education policy to the George W. Bush Institute in May.
William L. Turner, Betts Professor of Education and Human Development, delivered the keynote address at the American Family Therapy Academy meeting in Denver in June on successful implementation strategies for children's mental health programs, particularly in minority and low-income communities.