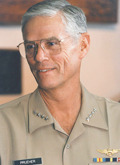 Retired admiral and former ambassador to China to moderate event
An Oct. 22 panel discussion at Vanderbilt University led by retired Adm. Joseph Wilson Prueher will focus on China's role on the world's stage and its implications for U.S. security policy.
The second annual Security Symposium, sponsored by Vanderbilt's Naval ROTC, will take place from 2 to 3:30 p.m. in the Stevenson Lecture Hall, Room 4309.
Prueher, who grew up in Nashville, graduated with distinction from the U.S. Naval Academy and earned his master's in international relations from George Washington University. His military career included serving as vice chief of naval operations in the Pentagon and commander-in-chief of the U.S. Pacific Command, the world's largest military command. Prueher rose to the rank of four star admiral before retiring in 1999. He then served two years as U.S. ambassador to China.
Currently, Prueher is the James R. Schlesinger Distinguished Professor at the Miller Center of Public Affairs at the University of Virginia. He is also a senior adviser on U.S.-China security matters for the Stanford-Harvard Preventive Defense Project, a research collaboration between the two universities.
Other panelists are Brett Benson, assistant professor of political science at Vanderbilt; Peter Lorge, senior lecturer in history at Vanderbilt; and James Holmes, associate professor of strategy at the U.S. Naval War College and a Vanderbilt Naval ROTC graduate. Benson's academic expertise includes China's use of economic power as an instrument of national security. Lorge teaches military history and is the author of The Asian Military Revolution: from Gunpowder to the Bomb (Cambridge University Press 2008).
The event is free and open to the public, but seating is limited. Interested individuals can reserve a seat by contacting Jessica Thweatt at jessica.thweatt@vanderbilt.edu or 615-322-2671. Video of the panel discussion will be available at news.vanderbilt.edu after the event.