Media Inquiries
Latest Stories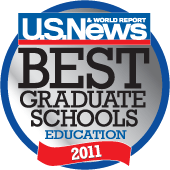 Vanderbilt Peabody College of education and human development is ranked as the best graduate school of education in the nation by U.S. News & World Report for the second consecutive year.
In rankings released Thursday to be published in the May edition of U.S. News & World Report , Peabody programs in Administration/Supervision and Special Education were also named No. 1 in the nation. Also ranked were Peabody programs in Education Policy (No. 4), Elementary Education (No. 5), Higher Education Administration (tied at No. 6), Educational Psychology (No. 7) and Curriculum/Instruction (tied at No. 9). With its overall No. 1 score of 100, Peabody was 9 points ahead of its nearest competitor.
"We are exceptionally pleased to retain the first place ranking and strengthen our hold on the position," said Camilla Benbow , Patricia and Rodes Hart Dean of Education and Human Development at Peabody. "It confirms the quality of our people and programs, and it adds weight to our efforts to strengthen education for all learners."
The annual graduate school rankings are based on surveys of more than 1,200 programs and 12,400 academics conducted in fall 2009. Individual program rankings were based on ratings from academic experts.
"We are very proud of the exceptional accomplishments of our faculty and students in the graduate and professional programs included in this most recent ranking," said Richard McCarty , provost and vice chancellor for academic affairs. "With the recent investments in graduate programs, we will continue this steep upward trajectory."
Vanderbilt Chancellor Nicholas S. Zeppos announced April 9 that the university will create a $100 million endowment over the next five years to support graduate education.
Vanderbilt School of Medicine solely claimed the No. 15 spot for research hospitals this year; in 2009 it tied at No. 15.
"I am proud to say this report reflects the commitment to excellence and dedication to service exhibited by our faculty and staff," said Dr. Jeff Balser , vice chancellor for health affairs and dean of the School of Medicine.
Vanderbilt Law School maintained its No. 17 ranking, a position it has held for seven of the past 10 years.
The Vanderbilt Owen School of Management was tied at No. 36, and the School of Engineering moved up two spots from No. 39 to a tie for No. 37.
"Vanderbilt engineering continues to rise steadily in these rankings," said Dean Kenneth F. Galloway . "I am very proud of the work of our faculty and our outstanding graduate students. We believe their leading-edge research will have lasting impact."
Included in the rankings this year for the first time in three years were programs in the sciences. The Vanderbilt program in Biological Sciences was tied at 32 after ranking 34 in 2007. Chemistry tied at 49, up 10 slots from its 2007 ranking. Physics was ranked No. 57 and Computer Science No. 58.