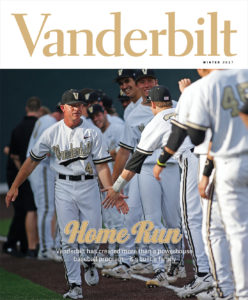 A GOOD READ
The article about Vandy baseball and coach Tim Corbin ["The House That 'Corbs Built," Winter 2017] exemplifies the special community we are privileged to be a part of. I am convinced this is the finest collegiate publication in print. Most every article in every edition piques my interest, and the writing is outstanding! The photojournalism and letters to the editor are a joy to peruse as well, and in keeping with the overall balance and excellence.
Thank you for all the years of enjoyment. Keep up the great work!
Dr. Michael E. Ruff, BA'83, MD'87, Jasper, Indiana
---
I just wanted to thank you for including a piece recognizing alums in the military ["Decorated 'Dores," Winter 2017]. The article has helped renew my faith in my alma mater. I know that such an article would never appear in the magazines from Columbia, Cal Berkeley, Wisconsin, or any other university that is more focused on creating "safe zones" for their infantile students.
Russ M. Flaum, BA'72, Chicago
---
I've just finished reading the current issue of Vanderbilt Magazine, and write to tell you how much I enjoy it. What an excellent publication! I am rightly proud of my Vanderbilt degree, and it is so good to follow the activities of the university.
While I was a student at the university, I was an assistant librarian at the Peabody Education Library and met so many wonderful patrons in that endeavor. Some of my fondest memories are of my professors, including Drs. Gleaves and Rothacker. They were so very good to a young North Dakota woman so far from her home.
Lillian Crook, MLS'85, Bismark, North Dakota
EDITOR'S NOTE: Crook, the former director of Dickinson State University's Stoxen Library, is a founder of the Badlands Conservation Alliance.
---
MESSAGE RECEIVED
I was reaching for a bottle of refreshing, store-bought water when I opened the Winter 2017 issue of Vanderbilt Magazine and found the article "Message in a Bottle," written by Lisa Kaas Boyle, BA'86.
Without overwhelming the reader with scientific details, the author makes an effective argument against drinking from single-use plastic bottles, a simple but extraordinarily important action to help the environment. Her article gave me cause to reflect on the discrepancy between the pro-environment actions I take every day—recycling what I can, minimizing electricity use in my home and office, donating to environmental causes—and the lack of effort I put forth in many other activities, such as reusing bottles and bags, and investing in clean energy, including clean transportation and composting.
I appreciate her calling attention to one way we can impact nature through an intentional ordinary daily activity. With environmental protection under attack, it is essential that we as individuals take more responsibility for the state of the Earth we leave our children.
Dr. Michael T. Beckham, BA'86, Nashville
---
CORRECTING THE CORRECTION
Elizabeth Teselle lays the blame for Elizabeth Langford's failure to receive tenure in 1981 [Readers' Letters, Winter 2017] at the feet of the Vanderbilt administration, specifically Dean Jacque Voegeli. Having spent 40 years working in a university comparable to Vanderbilt, including almost 20 years in administration, I have a different perspective.
Unless department faculty vote unanimously (or near unanimously) for a candidate to receive tenure, the outcome is usually negative. In all likelihood, "recommending" promotion with a 15–5 vote doomed Dr. Langford. Thus, I believe … the English department undermined Elizabeth Langford's petition for tenure.
Richard B. Jewell, BA'67, Los Angeles
EDITOR'S NOTE: Jewell is professor and associate dean, emeritus, of the University of Southern California's School of Cinematic Arts.
---
---
Share this post