Zoe Chace

Feb. 19, 2019—Former Arizona Sen. Jeff Flake drew a capacity crowd at Vanderbilt's Langford Auditorium on Jan. 17 as part of the Chancellor's Lecture Series, discussing shifts in the Republican Party, the midterm elections, and fiscal challenges facing the federal government.
---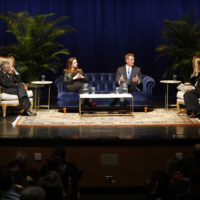 Jan. 18, 2019—Chancellor Nicholas S. Zeppos, Sen. Jeff Flake, This American Life producer Zoe Chace and Carolyn T. and Robert M. Rogers Visiting Professor Jon Meacham engaged in thoughtful discussion that drew a capacity crowd to Langford Auditorium.
---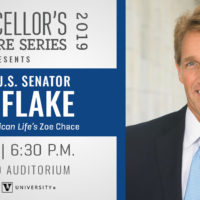 Jan. 7, 2019—Fresh from a term that included several highly publicized ideological clashes with the president, former Sen. Jeff Flake will visit Vanderbilt Jan. 17 to explain his hopes for American politics going forward.
---