Vivian Gama

Feb. 1, 2021—Researchers will combine expertise in developmental cell biology and tissue engineering/microfluidics to develop highly complex organoids, with the goal of understanding currently incurable neurological disorders. 
---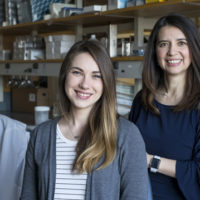 Jul. 18, 2019—Megan Rasmussen, a Ph.D. student in Cell and Developmental Biology, has been selected as the 2019 Vanderbilt Prize Student Scholar.
---

Aug. 4, 2017—Students hosted by the elite Vanderbilt Summer Science Academy presented their research—from stem cells to Zika—at the 15th annual Student Research Symposium held Aug. 3 at the Engineering and Science Building.
---