refugees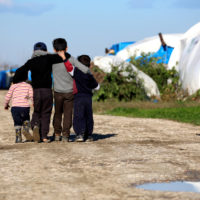 Nov. 24, 2020—Americans may be much more receptive to refugee settlement in the United States than current government immigration policies suggest, according to a new study by Mariano Sana, associate professor of sociology and a faculty affiliate of Vanderbilt's influential Latin American Public Opinion Project.
---

Oct. 30, 2017—Vanderbilt students, faculty and staff joined Chancellor Nicholas S. Zeppos on Saturday for a tour through the city's "international corridor" to hear from citizens and leaders in Nashville's immigrant and refugee communities.
---

Apr. 4, 2017—Vanderbilt and 30 of the nation's other top universities have filed a joint amicus brief urging that the U.S. District Court's preliminary injunction against portions of the latest executive order regarding immigration and refugees be upheld.
---