quark-gluon plasma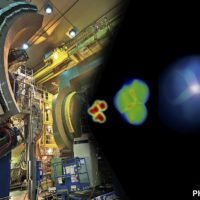 Dec. 10, 2018—PHENIX publishes new particle-flow measurements to support their case that tiny projectiles create specks of quark-gluon plasma.
---

Oct. 3, 2017—In subatomic collisions, physicists have found the signature of primordial cosmic soup, from which all the stuff in the universe formed, at lower energies and in smaller volume than ever before.
---

May. 16, 2013—Scientists at the Large Hadron Collider, the world's most powerful particle accelerator, may have created the smallest drops of liquid made in the lab.
---