Metro Nashville Public Works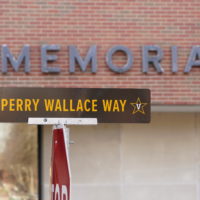 Feb. 24, 2020—More than 200 people gathered in front of Vanderbilt University's Memorial Gym Feb. 22 for the dedication of Perry Wallace Way, the portion of 25th Avenue South recently named in honor of Vanderbilt trailblazer and Nashville native Perry Wallace, the first African American to play varsity basketball in the Southeastern Conference.
---

Apr. 7, 2016—Mayor Megan Barry and Metro Public Works are reaching out to the Vanderbilt community and the Nashville public for input about Metro's Strategic Plan for Sidewalks and Bikeways, also known as "WalknBike."
---

Sep. 4, 2015—A Metro Nashville Public Works project will improve pedestrian safety and increase functionality at the intersection where 21st Avenue South meets Broadway near the entrance to Vanderbilt Law School.
---