biotechnology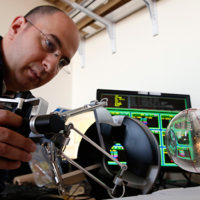 May. 8, 2018—Nabil Simaan's Advanced Robotics and Mechanism Applications Laboratory at Vanderbilt leads the way in advancing several robotics technologies for medical use, including miniature robots for single small-incision, cochlear implant and minimally invasive throat surgeries.
---

Nov. 7, 2013—Tricking algae's biological clock to remain in its daytime setting can dramatically boost the amount of commercially valuable compounds that these simple marine plants can produce when they are grown in constant light.
---

Oct. 10, 2012—Is race a biological category written in our genes? Or are genomic scientists and biomedical researchers mistakenly using race to explain away health disparities among different population groups? Dorothy Roberts, the Penn Integrates Knowledge Professor at the University of Pennsylvania, will explore this issue in an upcoming Chancellor's Lecture at Vanderbilt University.
---