Amy Elizabeth Steele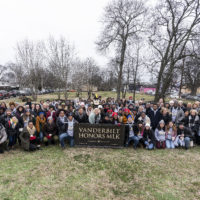 Jan. 22, 2020—Vanderbilt students, faculty, staff and postdoctoral fellows honored the legacy of Martin Luther King Jr. through programs, lectures, interactive teach-ins, community service projects and more as part of the university's annual Martin Luther King Jr. Commemorative Series.
---

Aug. 19, 2013—The Rev. Dr. Emilie M. Townes will be installed as the 16th dean of Vanderbilt University Divinity School Aug. 23 at Benton Chapel.
---

Sep. 18, 2012—Vanderbilt Divinity School students will share reflections on their May trip to the United States-Mexico border at a Sept. 25 community breakfast.
---