Author: Vanderbilt News and Communications

May. 30, 2019—Vanderbilt may nominate up to three tenure-track faculty per department for the Alfred P. Sloan Foundation's Sloan Research Fellowships. The goal of the fellowships is to stimulate fundamental research by early-career scientists and scholars of outstanding promise. These two-year fellowships are awarded yearly to 126 researchers in recognition of distinguished performance and a unique potential to make substantial contributions to their field. The 2020 Sloan Research Fellows will receive fellowships in the amount of $75,000.
---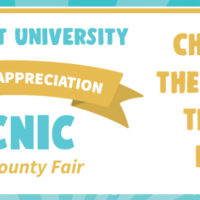 May. 29, 2019—Thousands of Vanderbilt University employees attended the annual Employee Appreciation Picnic: At the County Fair. Faculty and staff members enjoyed free food and activities designed to express thanks for the integral role they play in the university's purpose and mission.
---

May. 29, 2019—CORE Nutrition offers practical recipes, healthy samples, and reliable nutrition information in a fun, come and go atmosphere.
---