The Vanderbilt University Division of Administration has announced that Alexander M. Kohnen, a leader in facilities management and engineering, will join the university as associate vice chancellor and chief facilities officer, effective Jan. 8.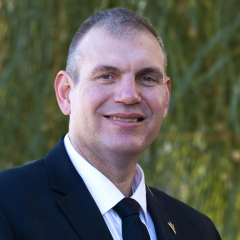 Kohnen's experience and expertise spans more than 25 years, encompassing facilities operations, energy efficiency and environmental engineering. His background includes two decades as a naval officer, where the focus of his work was on facilities and construction management, at home and abroad, including conflict-torn zones of Afghanistan and Iraq. 
Kohnen is an alumnus of the U.S. Naval Academy in Annapolis, Maryland, where he earned a B.S. in aerospace engineering.  
"By overseeing the management of our existing facilities and the development of new ones, Alex will further Vanderbilt's trajectory as an enterprise committed to transformative education and pathbreaking research," said Chancellor Daniel Diermeier. "I look forward to working with him as we continue the evolution of our campus to include state-of-the-art living, learning and innovation spaces for our students, faculty and staff." 
In his most recent role as vice president for facilities development and management at Arizona State University, Kohnen directed a capital infrastructure program valued at more than $1 billion and managed a team of architects, engineers, tradespeople and support staff responsible for a campus encompassing over 25 million square feet. 
With a master's degree in business administration and a focus on environmental engineering, Kohnen has consistently demonstrated his ability to lead teams to implement cost-effective, sustainable solutions that emphasize energy integration and water management.  
Eric Kopstain, vice chancellor for administration, said Kohnen's track record and strategic planning capabilities will undoubtedly contribute to enhancing the facilities and operations at Vanderbilt University. 
"Alex brings an extraordinary blend of visionary leadership and unparalleled expertise in facilities management. His extensive experience, strategic vision and unique background align perfectly with Vanderbilt University's commitment to academic excellence, sustainability and the advancement of facilities to support educational and research missions," Kopstain said. 
Mike Perez, who has served as the associate vice chancellor and chief facilities officer since 2016, announced his retirement earlier this year. He will step down on Dec. 31.