On Nov. 2, Lisa Monteggia, Barlow Family Director of the Vanderbilt Brain Institute and professor of pharmacology, psychiatry and psychology, joined John Hoomes, CEO and artistic director of the Nashville Opera, for a discussion on the artistic approach and scientific research behind the Nashville Opera's upcoming performance of The Man Who Mistook His Wife for a Hat.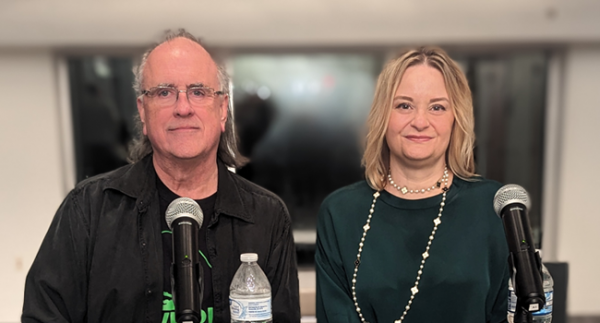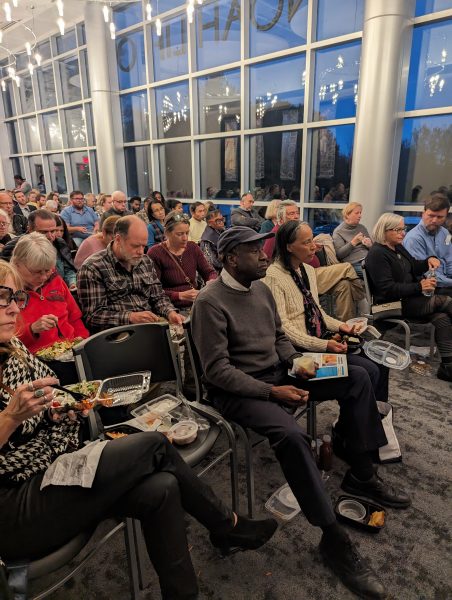 The discussion was part of TPAC's InsideOut series, a free community learning program sponsored by Vanderbilt University's Division of Government and Community Relations, which celebrated 20 years of partnership with TPAC in February.
"We are delighted to facilitate this collaboration and outreach opportunity with TPAC, the Nashville Opera and the Vanderbilt Brain Institute," said Kathleen Fuchs Hritz, senior director of community relations at Vanderbilt. "It reflects our commitment to forging meaningful partnerships that benefit our community and offer cultural and educational experiences."
The opera, directed by Hoomes, written by Michael Nyman and based on a book by the same name written by Oliver Sacks, explores the complexity of the human brain from a neurological case study using emotional and often dramatic music. The patient and protagonist, Dr. P, experiences visual agnosia, a condition which causes an inability to visually recognize everyday objects. The condition leads Dr. P to mistake the identity of his wife as a hat. Much about the condition is still unknown. "Between 1890 and 1990, there were approximately 100 documented cases of it [the condition]," Monteggia said.
The sold-out crowd had the opportunity to learn about the music in the opera, the show's history with the Nashville Opera, the mystery behind the inner workings of the brain and the beauty of the intersection of science and art. "There's a lot intertwined between arts and sciences. … Many composers, artists, poets often have very traumatic lives, and they're trying to convey something," Monteggia said. "There will always be a need for music, this outlet for emotion. Music and science are quite synergistic."
The Vanderbilt Brain Institute is a trans-institutional entity that oversees, facilitates and fosters excellence in brain-related disciplines. VBI research is a culmination of neuroscience-related endeavors across four of Vanderbilt's colleges with strong ties to VUMC. Faculty, staff, students and trainees from multiple fields of study are actively involved in projects working to advance our understanding of the brain.
"Researching the brain is a challenge, but that's what makes it so exciting. And the questions being asked are so fundamental to who we are as individuals," Monteggia said. "Our program includes scholars in engineering, computational analysis, psychology-based research, educational neuroscience and fundamental neuroscience research. The range of inquiry spans from how cells communicate at a fundamental level to behavioral neuroscience and how people learn. It's a dynamic environment."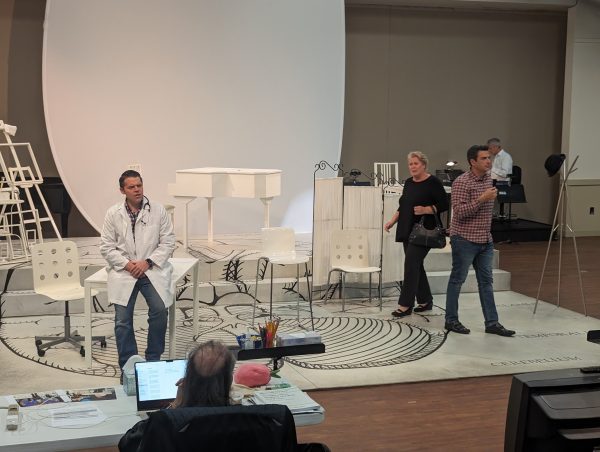 After the discussion, guests were treated to a rehearsal of the performance by cast members. The Man Who Mistook his Wife for a Hat will run Nov. 10–12, 2023, at the Noah Liff Opera Center. Visit TPAC.org for information on showtimes and tickets.
About TPAC's InsideOut Program
The Vanderbilt-sponsored TPAC InsideOut Engagement Series is an educational outreach program that offers lunchtime previews, evening performance excerpts and discussions, workshops and sneak previews called LookIns. The series is an opportunity for public engagement as cast members, directors and Vanderbilt professors take a dive deep into the subject matter of a production and share specific insight with the audience. These programs spotlight productions from TPAC and TPAC-affiliated organizations, including Nashville Repertory Theatre, Nashville Ballet and Nashville Opera.