The Metro Council is recognizing the transformative power of the Nichols Humanitarian Fund and its benefactors, the Nichols family. 
Zulfat Suara, Metro councilmember at large, requested a resolution to honor the Nichols Humanitarian Fund. A presentation at the council's Nov. 7 meeting recognized the family and students who have participated in humanitarian aid projects. The resolution is tentatively scheduled to be finalized at the council's Dec. 5 meeting.
The Nichols Humanitarian Fund, which provides funding in support of Vanderbilt students who plan to pursue humanitarian immersive experiences, was established in 2006 by the E.C. and Lucile Hamby Nichols Trust, and by Edward C. Nichols Jr., JD'70, and his wife, Janice Nichols. The fund encourages Vanderbilt students to become better citizens of the world and to broaden their thinking by volunteering for humanitarian efforts.
As stated in the council resolution, 40 Vanderbilt students received awards from the fund in 2023 to work on humanitarian projects during the summer academic break. Students worked in eight U.S. cities and 16 foreign countries. The U.S. projects were in Burlington, Kentucky; Indianapolis; Nashville, Tennessee; Pittsburgh, Pennsylvania; Redwood City, California; San Francisco; Santa Barbara, California; and Washington D.C.; the international projects were in Ecuador, England, France, Germany, Honduras, Italy, Kosovo, Mexico, Pakistan, Peru, Spain, Sri Lanka, Switzerland, Taiwan, Tanzania and Ukraine. 
Some of the projects include creating the first Peruvian School of Emerging Leaders program in Lima, Peru; an archaeological dig in France; helping the homeless in Barcelona, Spain; battling food insecurity in Pittsburgh; working with the disabled population in Nashville; working as an emergency medical technician in Mexico; partnering with Women's Economic Ventures in Santa Barbara; and supporting the Mercy Health Clinic in Washington, D.C.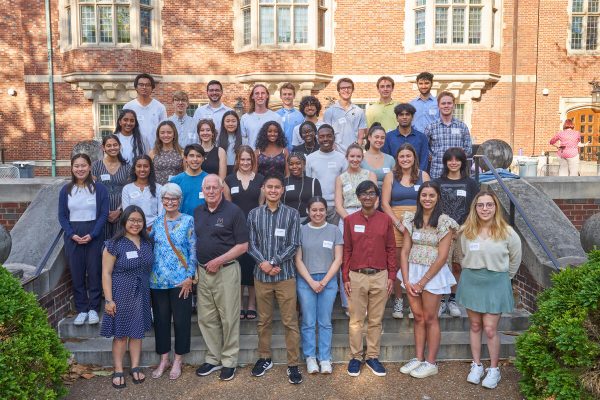 Vanderbilt students who participated in 2023 are John Abad, Alexys Ahn, Marvi Ali, Natalie Andreoli, Charu Balamurugan, Benedict Ballman, Ojas Bhagra, Dani Chacon, Riya Chinni, Muhammad Dilawar, Carson Dixon, Ralph Francois, Elaine Gboloo, Madison Glenn-Lawson, Ellen Habteyonas, Carol Ham, Jonathan Jesalva, Min Joo Kim, J.M. Kongmanychanh, Camille Liska, Emma Marlowe, Ansley McDurmon, William McGoughran, Mahd Mohsin, Maya Mueller, Anthony Munoz, Imaad Muwahid, Micah Olson, Aidan Pittsenbargar, Jack Polucha, Davis Recht, Luke Rickers, Marius Schueller, Yunah Song, Matthew Stein III, Julia Tilton, Aryana Valedon, Soumia Vellanki, Carson Viggiano and Lillian Zheng. 
The Nichols Humanitarian Fund enables students to volunteer for local, domestic or international humanitarian service opportunities by making support available for educational, travel and living expenses during their time of service. Students plan their own summer experiences (a minimum of two weeks) in any location Vanderbilt University will sponsor travel. These experiences can be the basis for a student's Immersion Vanderbilt project. 
The Nichols Humanitarian Fund is a companion scholarship fund to the Nichols-Chancellor's Medal. The Nichols-Chancellor's Medal and Nichols Humanitarian Fund seek to make Vanderbilt students better members of their communities and society in general by supporting their humanitarian activities and bringing speakers to Vanderbilt who embody the best of humanity. 
Transformative scholarship programs such as this are the impetus behind Vanderbilt's Dare to Grow campaign—a $3.2 billion comprehensive campaign, the most ambitious in university history. By providing tuition support, Vanderbilt expands access for students, attracting the best aspiring professionals in a range of fields, positioning them to lead discovery and discourse in their local communities and globally. Learn more at vu.edu/daretogrow. 
Related resources