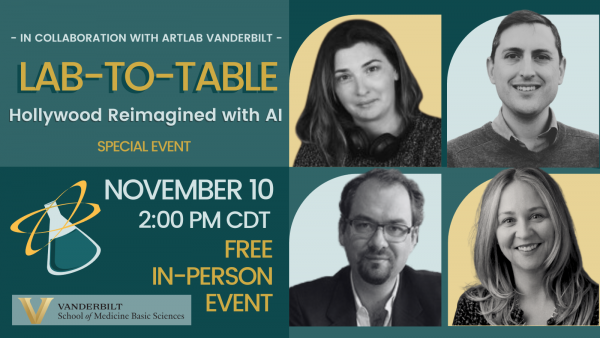 Artificial intelligence is changing the film industry in the digital age. From scriptwriting to pre- and post-production, AI is becoming a tool and source of inspiration for filmmakers and the stories they tell. It has also been a driving factor in the recently ended 148-day writers' strike that was partially over concerns about the use of AI and its potential to take an already-limited number of jobs from screenwriters.
Partnering with ArtLab and Grand Challenge Initiative, the next Basic Sciences Lab-to-Table Conversation, "Hollywood Reimagined with AI" will be Friday, Nov. 10, at 2 p.m. CT at Sarratt Cinema.
This event is an in-person Lab to Table event. It will include a screening of the undergraduate student-produced film On the Dying Grass, which was produced during their summer ArtLab internship.
Kendra Oliver, director and founder of ArtLab and assistant professor of pharmacology, will moderate a discussion about science, self, AI and art at Vanderbilt and beyond.
She will be joined by panelists:
There will be a reception after the panel discussion and film screening, including a presentation of AI-inspired fashion developed by students affiliated with the Wond'ry's Fiber Arts Build Lab.
The event is free and open to the public. Registration is required.