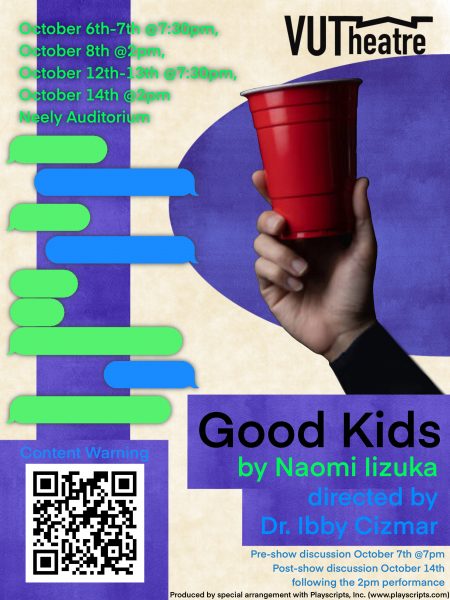 According to the Centers for Disease Control, one in four women and about 1 in 26 men have experienced rape or attempted rape nationally. RAINN (Rape, Abuse and Incest National Network), the nation's largest anti-sexual violence organization, reports that sexual violence is more prevalent than other crimes at colleges. And whether it happens on campus or not, rape is under-reported.
These statistics are part of the larger sexual assault epidemic in our country. Student concerns about assault on campus led Vanderbilt University Theatre to open its 2023–24 season with Good Kids, a play by Naomi Iizuka. The play, directed by Ibby Cizmar, assistant professor of theatre, deals with campus sexual assault, a pervasive problem at the center of university life in the United States. Shows are scheduled for Oct. 6–8 and Oct. 12–14 at Neely Auditorium.
"The arts offer a safe space to have discussions about difficult topics," Cizmar said. "I'm not so naïve as to think that doing this play will immediately change the culture of sexual assault on campus, but perhaps it can help us to have some productive conversations about the topic. If we can create a culture of compassion and empathy, maybe we can start to change the way we have been conditioned to uphold the status quo, which frequently silences victims."
The play is based on a case that took place in Steubenville, Ohio, in 2012. Members of a high school football team gang raped a high school student after she passed out, drunk, at a party. The play asks tough questions about how something like this can happen in a small-town high school, where "good kids" are involved.
Because so many have been affected directly or indirectly by sexual assault, Cizmar has made the mental and physical health of the cast, production crew and audience a priority. "In terms of how we approached the material, we tried to create a safe working environment for everyone," Cizmar said. "We talked about how we need to think about how we never really know each other's past experiences, and that we can't assume that we know how other people feel."
Intimacy director Rachael Murray worked with the student cast to make them feel safe, particularly when acting in the assault scene. Cizmar directed the scene in a stylized way. "The gift of theater is that you can create a theatrically stylized representation to effectively create distance for the audience and cast," she said.
For audience members, wide seating banks will allow anyone who is uncomfortable once the play begins to easily leave, and Project Safe advocates will be present for each performance.
The play features ensemble acting with a mix of first-year students, sophomores, juniors and seniors. Senior Ilana Cohen, who plays Chloe, is serving as assistant director as part of her senior honors thesis. This is the second time the play has been produced in Tennessee.
"We hope to create community, create conversations around this difficult topic, so that we can have more open and honest dialogue with students to make lasting change. There's always room for improvement," Cizmar said. "We want to put empathy into action."
Good Kids by Naomi Iizuka
Oct. 6–8, 12–14
Neely Auditorium
Friday and Saturday shows begin at 7:30 p.m.; Sunday performances are 2 p.m. matinees. There will be a pre-show discussion, Oct. 7, at 7 p.m., and a post-show discussion after the 2 p.m. performance on Oct. 14.
Tickets may be purchased online. Vanderbilt affiliates must log in to view student, faculty and staff ticket pricing.
---
Sexual misconduct prevention and support resources
Vanderbilt is committed to confronting and combating this societal problem, and to providing members of the Vanderbilt community with the resources and support they need and deserve. Through university policies and the combined efforts of our Title IX Office, Project Safe Center for Sexual Misconduct Prevention and Response and Student Affairs, students have access to an array of prevention and support resources.
View the university's sexual misconduct policy on the Title IX website.
For immediate crisis support, please call the Project Safe crisis hotline at 615 322- SAFE (7233).