Grace Kirtley, a senior in the College of Arts and Science, knows how to find her way in the wilderness. This summer, she was handed a compass, protractor, pencil, map and a list of coordinates to set off into the Kentucky wilderness on a day that reached 110 degrees Fahrenheit. With these tools alone, she found four locations in under four hours. Later, under the darkness of nightfall, she located another two sites in under two hours. Experiences like this Army ROTC training help Kirtley and her Army ROTC colleagues navigate many situations in life. 
Kirley received the prestigious Reserve Organization of America Award at the 10th Regiment, Advanced Camp in Fort Knox, Kentucky.  Presented to one cadet per regiment annually, the honor is given to the cadet who best reflects "comprehensive soldier and family fitness" by demonstrating resilience and the pursuit of enhanced performance to cope with adversity, best perform in stressful situations and thrive in life.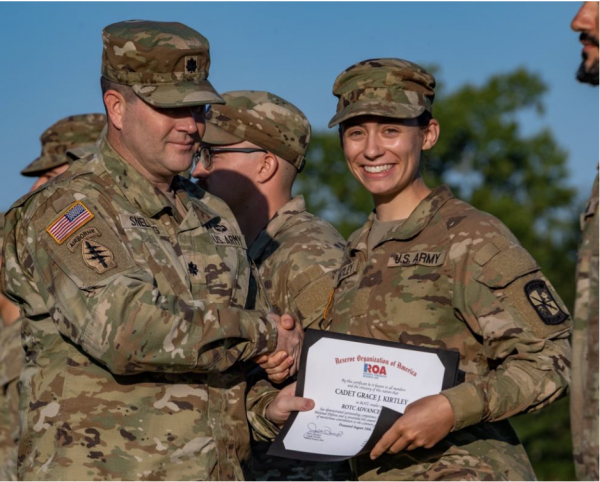 Kirtley, a law, history and society major with a minor in Arabic, served in the key leadership role of platoon sergeant during an intensive training mission at the camp, and she credits the award to her commitment to detailed preparation for and fostering of collaboration during the team exercise. She earned high scores in other trainings throughout the summer.

"I graduated Cadet Summer Training as a different person than the version of myself that helped unload the duffel bags on day one," Kirtley said. "I left feeling more confident in who I am as a leader and also confident in the idea that working to support your peers and be a team player is always the best way to go."  
 Kirtley attended the Project Global Officer study abroad program in Fes, Morocco, to study Arabic for seven weeks in summer 2023, which served as her immersion experience. One of more than 200 Project Global Officer language programs in 33 countries, this international immersive experience provided Kirtley with language training and expanded cultural knowledge.    
Hands-on experiences like Kirtley's two summer opportunities  are examples of the many ways Vanderbilt undergraduates can complete their Immersion Vanderbilt experience. In the summer and/or academic year, Vanderbilt students conduct field research, work in internships or engage in leadership training activities, all of which fall within the experiential pathways for Immersion Vanderbilt. 
"These opportunities allow cadets to develop linguistic and cross-cultural communication skills to become effective leaders in future foreign engagements and act as Vanderbilt ambassadors to these countries," said Lt. Col. Christine Kendzior, professor of military science and director of Army Office Education. "They also can conduct internships within Department of Defense organizations, bringing back direct knowledge and experience on current efforts and challenges facing our nation and its military." 
Kirtley has earned the honor and responsibility of serving as Army ROTC battalion commander at Vanderbilt this academic year alongside Mykayla Couchenour, the Naval ROTC battalion commander.  Kirtley and Couchenour will be the first two women to serve simultaneously as Vanderbilt ROTC battalion commanders, making it a milestone year for the programs and their leadership roles. 
Kirtley, along with Couchenour and senior Navy ROTC Midshipman Kate Lanham, has been key in engaging with activities that are supported by a Sesquicentennial Grant, provided by the Office of the Chancellor. The funded project focuses on women leaders at Vanderbilt, past and present, and is called "Dare to Grow, Lead, and Thrive at Vanderbilt: From the Frontline to the Sideline to the Boardroom." The project is led by Jill Stratton, assistant provost for academic support and community engagement.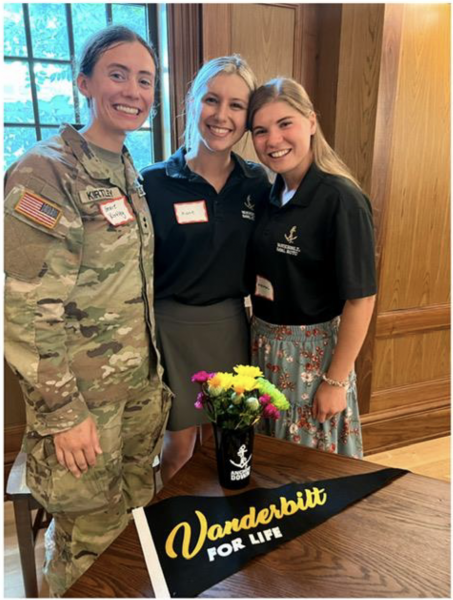 "Grace's commitment, persistence and initiative have been key to the creation and launch of the grant," Stratton said. "Through her involvement in ROTC as well as the VU community, Grace personifies the university's motto: dare to grow. And through her thoughtful leadership, she models that growth for her peers. It has been a joy to collaborate with Grace, and I look forward to seeing how her leadership continues to impact our community and beyond." 
In addition to her other leadership roles at Vanderbilt, Kirtley also supports the campus community by serving as a second-year resident adviser and head resident of Morgan House.  
For more information about the initiative funded by the Sesquicentennial Grant or the university's ROTC programs, please email jill.a.stratton@vanderbilt.edu. 
For information about Immersion Vanderbilt, email experiential.learning@vanderbilt.edu.