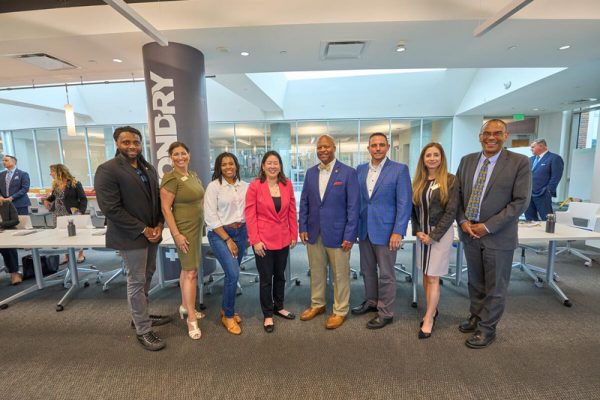 Senior leadership from the U.S. Patent and Trademark Office recently visited Vanderbilt University to learn more about the innovation ecosystem in Nashville and about translational research being conducted on campus. They also collaborated on how to commercialize intellectual property, discussed opportunities for inclusive innovation, and strategized how to create a recruitment pipeline for Vanderbilt students to enter USPTO careers.
"Inclusive innovation thrives when higher education and government collaborate to bring new ideas to market," said Yesi Sevilla, director of strategic engagement and ecosystem development at the Wond'ry, Vanderbilt's Innovation Center.
Having a patent can significantly benefit a startup. According to America's Small Business Development Centers, a partner program of the Small Business Administration, it can boost the chances of securing venture capital funding by 76 percent over three years. Startups that obtain their first patent witness a 36 percent increase in employee growth over the next five years. After that, companies with patents observe an overall 80 percent increase in sales compared with those without patents.
Provost and Vice Chancellor for Academic Affairs C. Cybele Raver and Vice Provost of Research and Innovation Padma Raghavan hosted the USPTO leadership, including Hope Shimabuku and Jacob Choi, director and assistant director of the Texas Regional USPTO, respectively, and Jason Lott, managing attorney of Trademarks Customer Outreach at the USPTO. Organized by the Wond'ry, the visit built on earlier events that focused on how the USPTO helps new businesses expand into new and global markets.
"The discussion with key leaders in the higher education landscape, including Vandy's great Wond'ry team, reinforced the importance of collaboration, idea-sharing and best practice metrics when it comes to expanding inclusive innovation and incentivizing IP protection in learning environments," said Dede Kane Zecher, BS'03, chief adviser to the U.S. undersecretary of commerce for intellectual property.
USPTO toured the Wond'ry. (Vanderbilt University)
The campus visit included a tour of the Wond'ry; an information session on the basics of IP and trademark and USPTO careers; a higher education roundtable discussion, including regional institutions of higher ed; and a fireside chat with Vanderbilt researchers. These events, along with a tour of Nashville and visit to the Nashville Entrepreneur Center, gave Shimabuku and USPTO leaders a closer look at Nashville's strides toward becoming a hub of innovation and commercial activity. The visit to campus underscored the sheer quantity of translational research conducted across the university and Vanderbilt University Medical Center.
"By fostering an ecosystem that supports diverse voices and perspectives, we can unlock the full potential of innovation and create solutions that address the needs of all individuals and communities," Sevilla said.
USPTO university roundtable at the Wond'ry (Vanderbilt University)
The roundtable discussion included Evans Family Executive Director of the Wond'ry David A. Owens, Raver, USPTO leadership and representatives from Fisk University, Middle Tennessee State University and Motlow State Community College. The conversation centered around fostering inclusive innovation, improving the percentage of women and people of color on patents, and gaps in the regional innovation ecosystem where startups can pursue IP/trademark protections and commercialization.
"If we can work together to understand barriers to entry—and eliminate them through accountability and action—think of the possibilities. This is an 'all hands on deck' effort, and I'm thrilled to continue the conversation," Zecher said.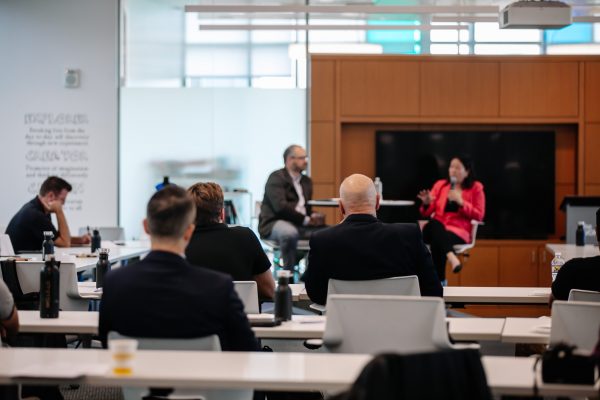 The Vanderbilt community fireside chat was moderated by Ole Molvig, assistant professor of physics, history and communication of science and technology and founder of the Emergent Technology Lab at the Wond'ry. The conversation was a unique opportunity for the Vanderbilt research community to hear directly from the USPTO, including real examples of the benefits and positive experiences scholars have working with the USPTO across diverse industries and disciplines.
After the visit, Deanna Meador, deputy director of the Wond'ry, was a panelist at the 44th America's SBDC conference. She joined Shimabuku to discuss the value of IP, the importance of mentorship and opportunities for funding to help women entrepreneurs succeed. Meador and panelists Erika Dillard, BS'01, PopCheck Technologies founder and CEO; and Katie Kupstas, Inventors Club for Women founder, shared the stories of how they used their intellectual property to grow and succeed. They also discussed challenges unique to entrepreneurship.
Meador recently achieved a record-breaking seed fundraising round by closing a $1.5 million investment for her AI-focused startup, Couture Technologies, in a remarkable eight hours. The raise, which happened on International Women's Day, was the quickest fundraise in Tennessee to date. Meador also is among a select group of startup founders: women. TechCrunch reported that in 2022, startups with all-women teams received 1.9 percent (around $4.5 billion) out of the approximately $238.3 billion in venture capital allocated.
"It is important for all startup founders, but especially women and those from underrepresented groups, to prioritize understanding intellectual property protection, how to access resources and the process to file. It not only safeguards their innovations, but also enhances their credibility, attracts investors and establishes a strong foundation for not only their business growth, but also generational wealth," Meador said.