Media Inquiries
Latest Stories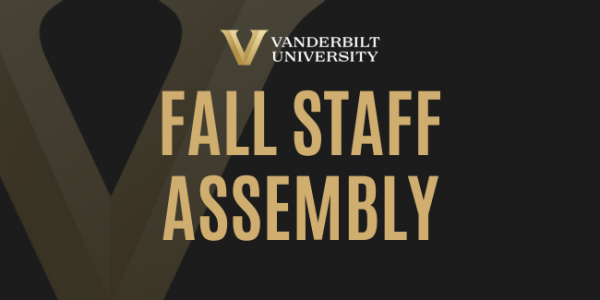 All Vanderbilt University staff are invited to attend the Fall Staff Assembly, either in person or virtually, at 3:30 p.m. on Thursday, Sept. 21. The event will celebrate university staff and their many contributions to the university's mission and will feature remarks from Chancellor Daniel Diermeier and University Staff Advisory Council President Adam McKeever-Burgett, as well as student and faculty representatives. The fall awards for staff excellence will also be presented at the event.   
In-person seating in the Student Life Center ballroom is on a first come, first served basis. A reception and resource fair will follow the program for those in attendance.    
The event will also be livestreamed on the Vanderbilt Employee Appreciation webpage and recorded for later viewing. 
Register for the Fall Staff Assembly >> 
Parking 
Free parking is available in the 25th Avenue Garage. Please use the Highland Avenue entrance and allow extra time as there will be increased traffic in the area. For other parking locations, including annual permit, daily parking and hourly parking lots, view the interactive parking map.   
About Staff Assemblies 
Upon his arrival in 2020, Diermeier began a tradition of holding fall and spring assemblies to recognize and celebrate staff.  
The awards for individual and group staff recognition at the fall assembly are: Community Impact, Professional Excellence, Innovation Excellence, Research Excellence, Student Impact and Leadership Excellence.