Carol Ziegler, MSN'06, DNP'12, professor of nursing and co-founder of the Climate, Health and Energy Equity Lab, was appointed to the Metro Nashville Board of Health on Aug. 15.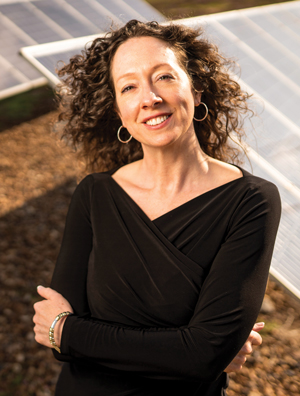 At Vanderbilt, Ziegler develops trans-institutional strategies to improve health outcomes in underserved communities through culturally appropriate, community-based health initiatives. She is also developing academic programming to educate students on the role of primary care providers in advocating for adaptation and mitigation policy for climate change. She is faculty head of Gillette House.
She combines efforts within the Climate, Health and Energy Equity Lab at the Wond'ry, Vanderbilt's Innovation Center. CHEEL's aim is to identify and mitigate local health impacts related to climate change, to educate health care providers and community members about climate change and climate solutions, and to reduce the contribution of the health care sector to carbon emissions.
The Metro Nashville Board of Health exercises all the administrative functions of the Metropolitan Government that pertain to public health, including developing public policy and rules. Ziegler joins six other community members on the board. "I am grateful for this opportunity to serve my community and work with the great people in the health department and our local leaders to advance health for the city," she said.
Ziegler joined the Vanderbilt University School of Nursing faculty in 2013 while practicing full time as a family nurse practitioner with Meharry Family Medicine. She teaches in the Family Nurse Practitioner and Doctor of Nursing Practice programs and is certified as a family nurse practitioner and an advanced-practice holistic nurse.
"Carol Ziegler's journey from the classroom to the Metro Nashville Board of Health underscores Vanderbilt's vital role in our city," said Nathan Green, vice chancellor for government and community relations. "With her dedication to education and her scholarship on the impact of health care, Ziegler represents the synergy between academic excellence and community engagement that defines our institution."
Ziegler is a faculty affiliate of the Vanderbilt Institute for Global Health. Her global health experience began in 2009, working with traditional healers in Western Kenya on initiatives aimed at protecting their traditional knowledge and improving and augmenting access to primary care health services, as well as finding market-based strategies to promote forest preservation.
Before joining the Vanderbilt faculty, Ziegler was a registered dietitian in a small Appalachian community in East Tennessee and investigated the anticancer properties of chemical compounds produced by plants in a nutrition research lab at the University of Tennessee.