Vanderbilt rising senior Induja "Indu" Kumar has been selected as a 2023 Morris K. Udall and Stewart L. Udall Foundation Scholar. The scholarship program focuses on dedication to issues affecting Indigenous lands and people and the stewardship of nations' land and natural resources. Kumar is the 11th Vanderbilt student to win this award and the university's first recipient since 2019.  
Kumar is one of 55 Udall Scholars selected nationally from a pool of 384 applicants nominated by 172 U.S. colleges and universities. She will travel to Arizona to participate in August Udall Scholar Orientation with her Udall Scholar peers.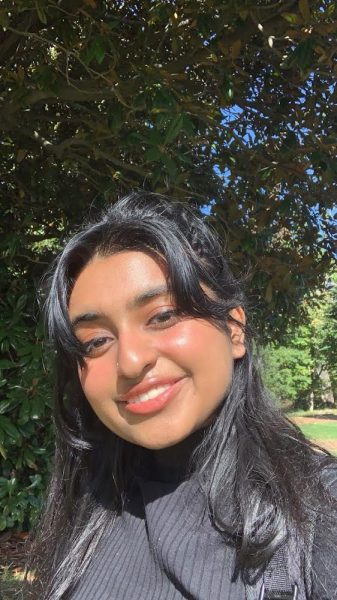 "I am especially excited to continue researching and organizing around environmental justice with peers from my Udall cohort," Kumar said. "I am so thankful for what the Udall Foundation has granted me—a network with which to continue pursuing interests which are both academic and personal." 
A junior from Chandler, Arizona, Kumar is a climate studies and political science double major. A Cornelius Vanderbilt Scholar, she serves as the president of Hidden Dores and as a resident adviser in Zeppos College. She participated in the 2023 Clinton Global Initiative University and is a James Lawson Institute Fellow, and her service and research have been supported by the Nichols Humanitarian Fund.  
Earlier this year, Kumar became Vanderbilt's first undergraduate Fulbright-Hays Scholar, a flagship award from the U.S. Department of Education. Fulbright-Hays support enabled Kumar to travel to India, where she assisted a transnational group of scholars in creating a Hindi curriculum around climate change in India, collecting authentic resources for curricular development and engaging individuals and community groups on the front lines fighting climate change.  
While in India, Kumar notes, "I learned from women who collected seeds under the guidance of Dr. Vandana Shiva, an acclaimed climate activist, to promote local biodiversity, from the Indigenous Warli people in the coastal community of Dahanu who use Indigenous art to record and remember traditional sustainable practices such as slash and burn, and from watermen in the desert of Rajasthan who have revived over 11,000 lakes through community efforts. This trip and the final curriculum have expanded my understanding of community in relation to climate advocacy and strengthened my own cultural connection to the necessity of climate advocacy." 
Kumar's academic interests at the intersections of climate change and environmental justice have emerged from a variety of arenas, from exploring religion as an impetus for climate activism in interdisciplinary classes to researching how to equitably distribute carbon credits for local Nashvillians. She is actively engaged in the Nashville community supporting young people activated around issues including labor justice and prison education.  
Kumar notes, "applying for fellowships, including the Udall Scholarship, can be a strenuous endeavor, but it helped me realize the commonalities between my various commitments on campus and was an impetus for me to start thinking about my path after graduation."  
She intends to pursue graduate study in environmental policy in preparation for a career tackling interrelated global environmental challenges, including desertification—a critical issue in her native Arizona and the regions of India where she conducted Fulbright-Hays–sponsored research. In addition, she seeks to champion environmentally just food policies, research health and migratory climate impacts and champion equitable, sustainable urban planning strategies such as green infrastructure.  
Those interested in the Udall Scholarship or other competitive fellowships should email Elizabeth Harrington Lambert, associate director of fellowships and scholarships at Vanderbilt, to learn more about the Udall Scholarship, to verify eligibility and begin the application process. A pre-application will be due toward the end of the fall semester, and an internal application will be due in January.    
About the Udall Undergraduate Scholarship  
Established by Congress in 1992, the Udall Foundation mission is to promote leadership and education on the environment, public lands and natural resources to assist Native nations, federal agencies and others to resolve environmental issues and continue stewardship of the nation's resources. The Udall Scholarship honors the legacies of Morris Udall and Stewart Udall, whose careers in public service supported Native American self-governance and health care, and the stewardship of public lands and natural resources. Each scholarship provides up to $7,000 for eligible academic expenses for the recipient's junior or senior year of academic study. 
Applicants (U.S. citizens and permanent residents) must be nominated by their home institution during their sophomore or junior year. Applicants have either demonstrated interest and service related to conservation and environmental issues or are Native American or Alaska Natives working on tribal policy issues or pursuing health-related careers. Applicants are selected in recognition of their leadership, public service and commitment to either conservation and environmental issues or to service to Indian Country. 
About the Fellowships Team 
The Fellowships Team supports all Vanderbilt students, postdoctoral fellows and alumni who meet eligibility requirements for awards that require Vanderbilt institutional nomination. More information on supported fellowships is available on the Career Center website.