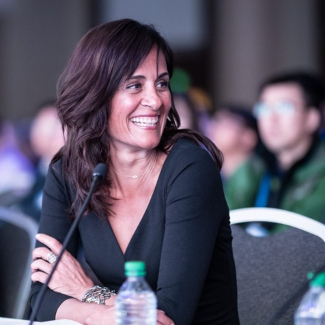 Vanderbilt University has appointed Niloofar Razi Howe, a technology entrepreneur and influential thought leader and strategist on national security and cyber threats, as a Distinguished Visiting Professor in the College of Arts and Science, effective July 1.
"We are excited for Niloofar Razi Howe to join Vanderbilt's growing concentration of experts in disciplines related to national security and emerging threats," Chancellor Daniel Diermeier said. "Her deep experience in the cybersecurity industry and sharp focus on innovation will raise the bar on our teaching and discovery in this critical area."
Howe was a session chair and featured speaker at the Vanderbilt Summit on Modern Conflict and Emerging Threats in May 2022 and May 2023. This year she chaired the panel "Is Misinformation the New Malware?" and took part in a one-on-one chat with keynote speaker Jen Easterly. The interdisciplinary conferences have brought together internationally recognized leaders from the military and intelligence communities with industry and academic experts to examine some of the world's most pressing challenges.
Howe is a senior operating partner with Energy Impact Partners, a venture capital fund that supports companies shaping a sustainable energy future. Her previous positions include chief strategy officer and senior vice president at RSA Security, a global cybersecurity company, and chief strategy officer at Endgame, a software security company. Howe began her professional career as a lawyer with O'Melveny & Myers and as a consultant with McKinsey & Co. Howe earned a bachelor of arts in English literature from Columbia University before enrolling at Harvard Law School, where she earned a juris doctorate and graduated cum laude.
Howe is a public speaker on national security, cybersecurity, technology, innovation, corporate governance and corporate culture. She created a TEDx talk, "The Gift of Exile," about the long-term opportunities that can arise from the most difficult hardships encountered in childhood. She speaks candidly about the challenges she endured as a child forced from her homeland during the Iranian Revolution. In addition, she credits those hardships for helping her build resilience for future career achievements.
"Niloofar Razi Howe brings exceptionally strong leadership and expertise to Vanderbilt's creative, transformative solutions that are designed to provide rapid response to unexpected global threats," said C. Cybele Raver, provost and vice chancellor for academic affairs. "I am confident she will make tremendous contributions to our national security initiatives."
Howe is a life member at the Council on Foreign Relations and a senior fellow with the International Security Program of New America, a nonpartisan think tank. She is a member of the Department of Homeland Security's Cybersecurity Infrastructure Security Agency Cybersecurity Advisory Committee.
Corporate boards on which she serves include Morgan Stanley Bank, N.A. and Morgan Stanley Private Bank, N.A.; CompoSecure Inc.; Swimlane; Tenable; and Tamr. In addition, she is chair of the board of directors for Pondurance and IREX. She is a regular judge at innovation competitions such as the RSA Conference Innovation Sandbox Contest.
"I am thrilled to join Vanderbilt University and support its vital goals of promoting interdisciplinary research and driving innovative solutions to our most pressing national security and cybersecurity challenges," Howe said. "I also look forward to continuing to support Vanderbilt's Summit on Modern Conflict and Emerging Threats, which brings together public and private sector leaders from diverse disciplines to examine and discuss the future of conflict."