The section of Natchez Trace between Kensington Place and Jess Neely Drive will be closed beginning Monday, June 19, until November.  
This closure is part of Phase 2 of Vanderbilt University's Central Utilities Initiative, which supports construction projects in the Frist Athletics Village. The initiative will provide utility enhancements in support of Vandy United projects, the residential colleges to be built along 25th Avenue South and other future university projects. Please refer to the maps below for the latest routes. 
Vehicles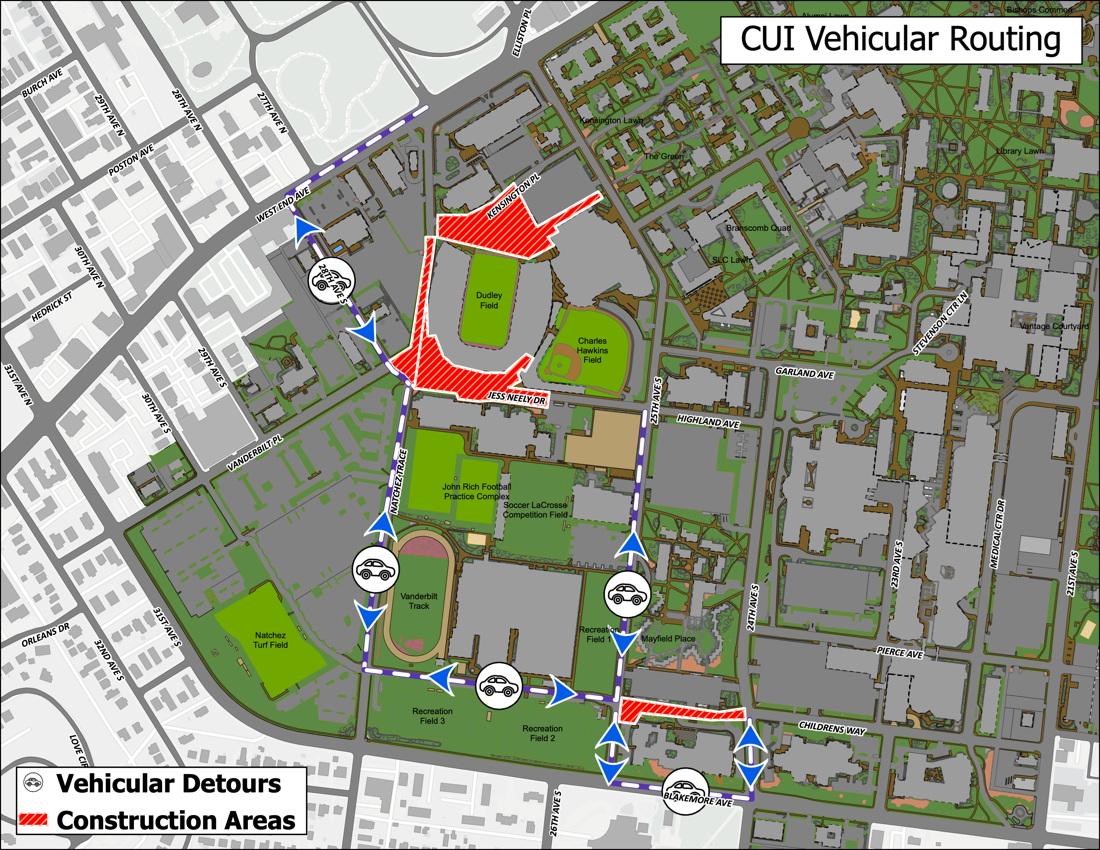 Natchez Trace will only be open to local vehicle traffic to parking lots and driveways north of Kensington Place and south of Jess Neely Drive throughout the project. 

 

There will be no through traffic on Natchez Trace from West End Avenue to Blakemore Avenue. 

 

Jess Neely Drive is permanently closed to vehicular traffic.

 
Pedestrians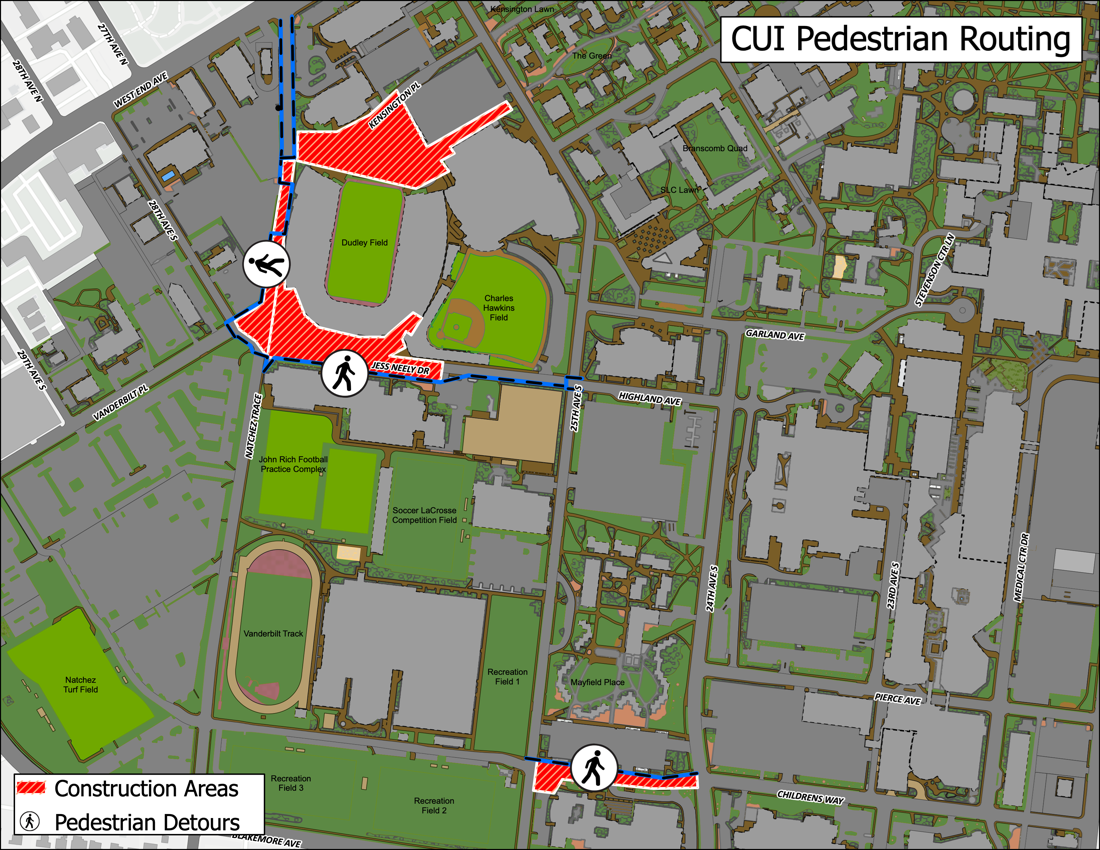 Pedestrians can access Natchez Trace and Jess Neely Drive throughout the project and should follow posted detour signs.

 

On Natchez Trace, sidewalks will remain open on both sides of the street north of Kensington Place. South of Kensington Place, pedestrians will be directed onto a single, accessible sidewalk through the construction area to Jess Neely Drive.

 

Two construction areas will involve the existing sidewalk, so pedestrians will cross to the other side of the closed street. Flaggers, temporary curb ramps and signs will help people navigate the work zone.

 

A temporary, accessible sidewalk will be constructed along Jess Neely Drive as work expands to maintain pedestrian access on the south side of the street.

 
Bicyclists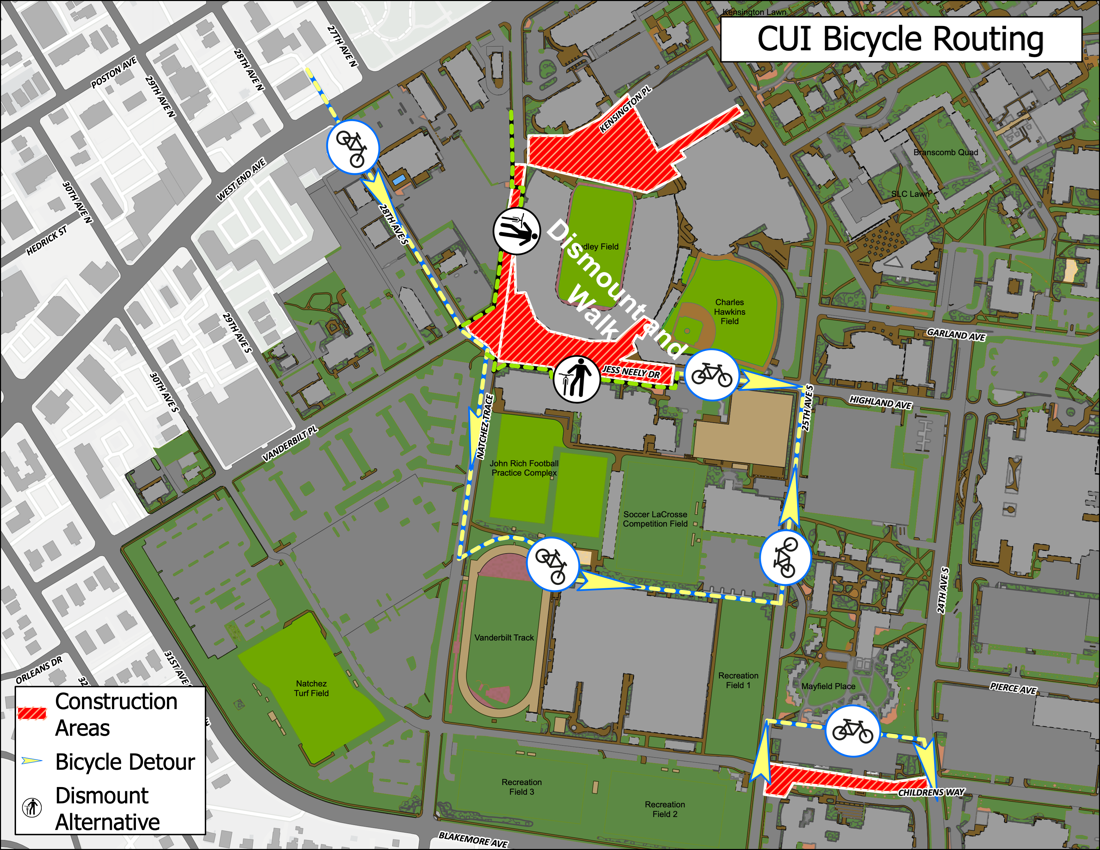 Due to space limitations, bicyclists will be asked to slow down, dismount and walk along Natchez Trace and Jess Neely Drive.

 

Non-dismount access to campus will remain open by detouring along Vanderbilt Place and Children's Way.

 

Southbound bicycle traffic on Natchez Trace from West End Avenue and Centennial Park is recommended to detour west to 28th Avenue South to enter campus.

 
View more information about the project on the Central Utilities Initiative website and see updates on the project timeline here.  
Please email the Campus Planning and Construction Department at constr_alerts@vanderbilt.edu with any questions or concerns.