Text by Kim Green; illustrations by Øivind Hovland
As Vanderbilt began renovating Kirkland Hall in 2022 in anticipation of the Sesquicentennial celebration, a tantalizing piece of history awaited construction crews. In its cornerstone was a time capsule, interred in 1874 when the building was still known as "the Main Building." Shortly before the capsule was exhumed and opened this winter, University Archivist Kathleen Smith shared her excitement—and apprehension: "You don't know what condition the materials will be in."
Smith knew what was inside, thanks to a newspaper article of that era. Those objects highlighted what the university community valued so soon after Vanderbilt's founding: a Bible and a hymnal, newspapers and church circulars, and a copy of Cornelius Vanderbilt's original donation papers.
When the capsule was opened in late February, Smith was disappointed to find that the copper box had been infiltrated by an archivist's worst enemies: water and mold. "The paper items are almost a complete loss," she says. She's now part of the team working to salvage some of the contents.
It's a painful but useful object lesson for preservationists planning a time capsule for Kirkland's new cornerstone. But to Vice Provost for Arts and Libraries Tracy Denean Sharpley-Whiting, Kirkland itself is a time capsule: It's a beautiful, stately structure that embodied the founders' hopes for the university 150 years ago. "But it's leaky. It's not ADA-compliant," she says. The updated Kirkland will retain its venerable elegance while honoring modern priorities of functionality and accessibility. "Kirkland is representative of this time capsule," she says—simultaneously preserving history and looking ahead.
Sharpley-Whiting says that the grand sweep of aspirations across time is exactly what a capsule should communicate. So as she, Smith and University Librarian Jon Shaw work together to design a time capsule that will convey a message to the future university community, they share tips about how to create your own.
---
1. Location, location, location
Choose a location where the time capsule is likely to be found. Enclosing it in a building that's treasured by a community or an institution—and thus, likely to be renovated instead of demolished—will increase the odds it will be opened one day by the audience you have in mind.
Keep the capsule in a cool, dry, stable environment, safe from water and too much light exposure. "[In Kirkland] they're going to use a new cornerstone," Smith says. "So hopefully it'll be protected from the elements."
---
2. The container matters
The capsule should be made of chemically inert materials such as stainless steel, aluminum or uncoated polyethylene. It should seal tightly—usually with a screw top and rubber gasket—to keep out water, light and dirt.
Inside the container, you can package like items together in smaller, inert containers such as acid-free paper envelopes or uncoated PET zip-closure bags.
---
3. Be mindful of materials
Choose items that will last for 100 years or more. Smith suggests that printed materials be on high-quality, acid-free paper whenever possible. Paper made with wood pulp, such as newsprint or mid-century pulp novels, contains acid that will break down the paper over time. "Surround things that aren't acid-free on either side with acid-free paper," she advises. Also, black-and-white photographs survive better than color photos. Consider choosing analog media over electronic—people of the future might not have the equipment to read a zip drive.
---
4. Tell a story
Shaw envisions a collection of things that would portray the university's evolution—and its aspirations. To represent the past, he'd want to incorporate something like a facsimile of "Cornelius Vanderbilt's letter talking about the reunification of the country, and how Vanderbilt is supposed to be this place to bring both sides together." Shaw and Sharpley-Whiting point out that Vanderbilt's growth into an inclusive institution with global reach far exceeds the vision the founders had 150 years ago, in the fractured, post-Civil War milieu they inhabited. "They would be astounded," Sharpley-Whiting says. "It's important for us to give a sense of how far we've come."
She hopes to include items that capture a broad swath of present-day university culture; e.g., student newspapers, trustees' minutes, campus maps and photographs of student life. That culture is inherently forward-looking because Vanderbilt is "in the business of ideas and innovation," Sharpley-Whiting says. "We help shape future leaders."
Building on this idea, Shaw envisions another way the capsule might highlight Vanderbilt's future: enclosing a "student's narrative or a penned letter to the future of what they can imagine that future being," he says. "Reading about that 100 years from now would really give a sense of 'Where do we think we're going?'"
---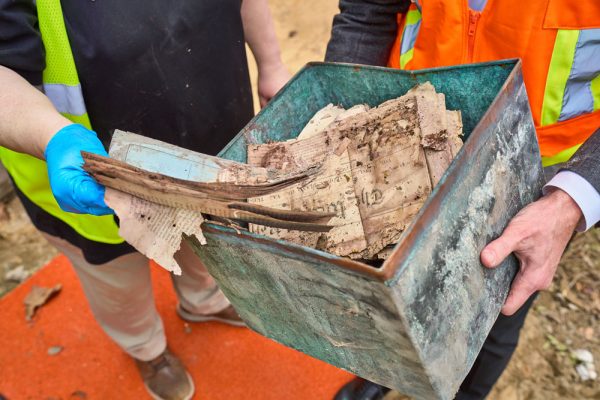 The condition of the contents in the time capsule interred in Kirkland Hall's cornerstone and opened in February emphasizes the importance of using a waterproof container for housing important documents and objects.
Watch a video about Vanderbilt's time capsules at vu.edu/time-capsule.
Visit vu.edu/capsule-survey to suggest items to include in the new time capsule.