As Vanderbilt began renovating Kirkland Hall in 2022 in anticipation of the Sesquicentennial celebration this year, a tantalizing piece of history awaited construction crews. In its cornerstone was a time capsule, interred in 1874 when the building was still known as the Main Building. Shortly before the capsule was exhumed and opened this winter, University Archivist Kathleen Smith shared her excitement—and apprehension: "You don't know what condition the materials will be in."  
Smith knew what was inside, thanks to a newspaper article of that era listing the capsule's contents. Those objects highlighted what the university community valued so soon after Vanderbilt's founding: a Bible and a hymnal, newspapers and church circulars, and a copy of Cornelius Vanderbilt's original donation papers.  
When the capsule was opened in late February, Smith was disappointed to find that the copper box had been infiltrated by an archivist's worst enemies: water and mold. "The paper items are almost a complete loss," she said. She's now part of the team working to salvage some of the contents.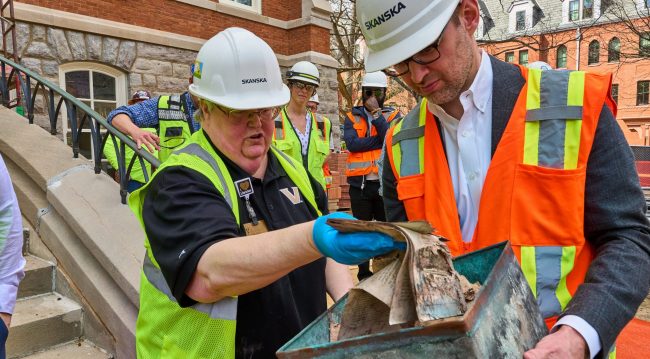 It's a painful but useful object lesson for the preservationists planning another time capsule for Kirkland's new cornerstone. But to Vice Provost for Arts and Libraries Tracy Sharpley-Whiting, Kirkland itself is a time capsule: It's a beautiful, stately structure that embodied the founders' hopes for the university 150 years ago. "But it's leaky. It's not ADA-compliant," she said. So the updated Kirkland will retain its venerable elegance while honoring modern priorities of functionality and accessibility. "Kirkland is representative of this time capsule," she said—simultaneously preserving history and looking ahead. 
Sharpley-Whiting says that the grand sweep of aspirations across time is exactly what a capsule should communicate. So as she, Smith and University Librarian Jon Shaw work together to design a time capsule that will convey a message to the future university community, they are seeking recommendations on what to include in the next time capsule, set to be unearthed decades from now. 
A campus survey is now available for the Vanderbilt community to make suggestions on what the new time capsule should contain. Ideas are now being collected to fill the shoe box–sized box with meaningful relics from life at Vanderbilt today.  
"When that box is unearthed, what will future generations deduce from our initiatives and goals?" Shaw said. "Perhaps it will be a leaf from the Sesquicentennial oak or maybe a signed baseball—the confines of our project are limited only by your imagination and the size of the cornerstone." 
*A portion of this story will be published in a forthcoming Vanderbilt Magazine article by Kim Green. Read the full story authored by Green on how to create a time capsule in that issue.