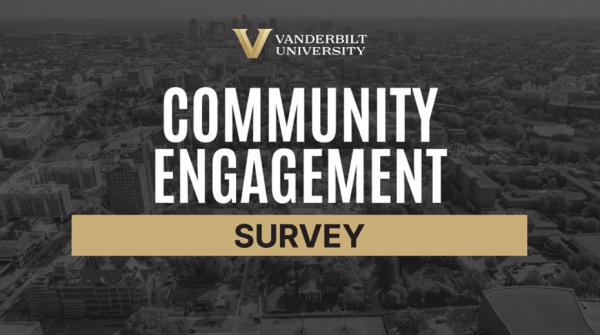 Eligible Vanderbilt staff members are invited to complete the Community Engagement Survey, designed to help the university gain a holistic view of Vanderbilt's community and civic engagement in the Nashville and Middle Tennessee area. An email invitation with a personalized link from Vanderbilt's REDCap platform will soon be sent to all eligible staff members. 
Survey questions are intended to establish how Vanderbilt staff, in connection to their role at the university, engage with community and government organizations as well as local programs and initiatives. The goals are to gain a broad view of Vanderbilt's reach and impact, to be able to report on our engagement and to identify opportunities for collaboration among campus partners. 
The survey aims to capture the following types of engagements in cases where it is (directly or indirectly) tied to a staff member's role at Vanderbilt:  
Nonprofit board service 

 

Research or consulting 

 

Speaking engagements 

 

Programmatic or event support (financial or in-kind sponsorship, planning or collaboration)

 
The Community Engagement Survey for staff has been developed in coordination with the Office of the Chancellor, the Division of Government and Community Relations and the Office of Data and Strategic Analytics. A separate effort will be conducted to gather data on faculty and student community engagement. 
"We appreciate staff members partnering with us to deepen our understanding of Vanderbilt's reach in the broader Nashville and Middle Tennessee area," said Nathan Green, vice chancellor for government and community relations. "This information will help us identify areas for increased engagement and our opportunities to extend and amplify our positive impact on our community." 
Staff members can complete the Community Engagement Survey from May 16 to June 15. Participation should take about five minutes. 
If you have questions regarding this survey, contact the Division of Government and Community Relations.