The 2023 Spring Vanderbilt Undergraduate Creative Writing Symposium and Arts Showcase was held April 13 to celebrate a diverse range of undergraduate talent across fields and disciplines at the university. A collaboration between the Vanderbilt Writing Studio and the Office of Experiential Learning and Immersion Vanderbilt, this year's symposium featured the highest-ever number of submissions and attendees.  
The Arts Showcase exhibited an array of student works, including paintings, fiber arts, photography and short films, all on public display in Joe C. Davis Memorial Hall. The student creators, each mentored by university faculty and staff, discussed their projects with attendees throughout the afternoon. The two-in-one event also included the Creative Writing Symposium, which showcased a series of panels highlighting student authors and their creative works of fiction, nonfiction and poetry. The student panelists also shared reflections on their writing processes and inspirations.  
"Being selected for the [symposium] was a very validating experience, especially with how solitary of an activity writing is," said Jessica Cobbinah, a senior double majoring in secondary education and English. "A lot goes into my writing process, but that isn't necessarily evident on the page, so I enjoyed getting the chance to discuss that aspect. My favorite part was getting to speak with my fellow presenters and hearing about how our approaches to writing align and vary."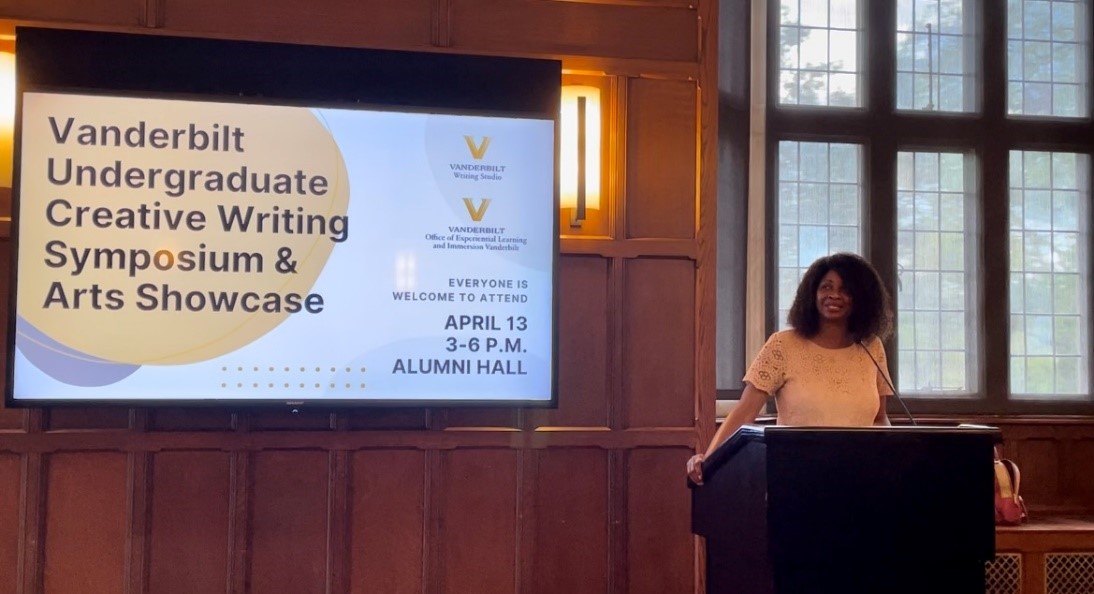 Vice Provost of Arts and Libraries Tracy Denean Sharpley-Whiting also attended the symposium and spoke to students and community members present, applauding the student presenters on their accomplishments and emphasizing the central place of creative endeavors within a liberal arts education. 
For many students, like senior chemistry major Hyoungjin Lee, the symposium was a chance to share creative passions outside of their fields of study. 
"I was thrilled to share my work 'Paths' at the Vanderbilt Undergraduate Writing Symposium and Arts Showcase, where readers could immerse themselves in my photos and poems," Lee said. "I'm truly grateful to Vanderbilt for providing me the opportunity to explore different cultures and perspectives, which have greatly reshaped my mental framework." 
Both the works featured in the Arts Showcase and the writings shared in the symposium can be viewed online. Explore the full schedule of readings on the event's program page.