The Vanderbilt Career Center has released the results of its Graduate Pathway Survey for the Class of 2022. The survey, which is sent annually to all undergraduates in the graduating class, helps inform the university about student outcomes after graduation.  
With the help of this survey, Vanderbilt obtained a 96 percent outcomes knowledge rate for the class of 2022. The outcomes knowledge rate refers to the percentage of the population whose outcomes after graduation are known. The Class of 2022 knowledge rate was the highest ever recorded at Vanderbilt.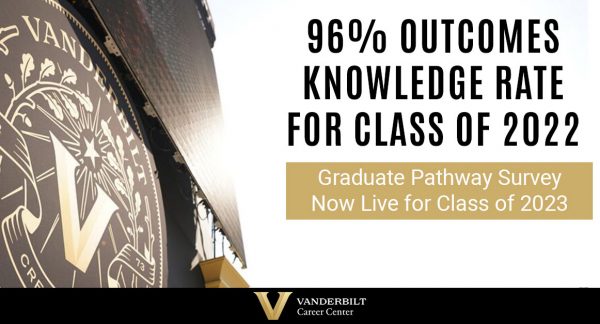 The 2022 class data included several highlights: 
26 percent of respondents continued their education in 2022–23.

 

63 percent found full-time employment.

 

Deloitte Consulting, which employed 128 members of the Class of 2022, was the top employer.

 

Nashville, New York City, Chicago, Atlanta and Boston were the top five locations for 2022 graduates.

 
"It's incredibly important information," said Michael Ferral, associate director of data analysis and systems.  
Ferral works in the Career Advancement and Engagement division, where he uses data from the Graduate Pathway Survey and other sources to analyze how students prepare and search for professional growth opportunities at Vanderbilt.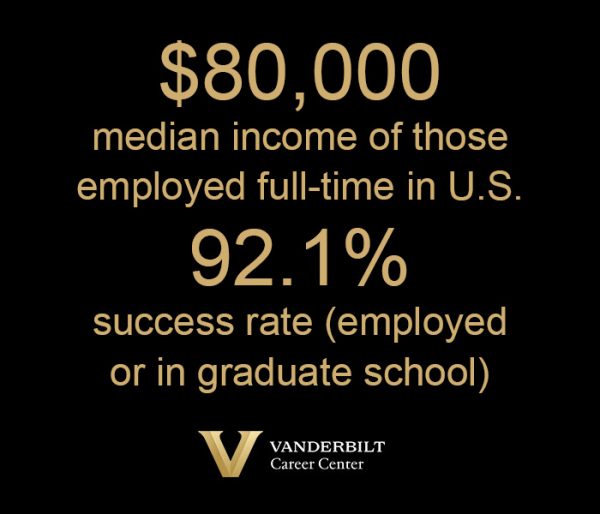 "We know Vanderbilt has a profound impact on the lives of our students," Ferral said. "We are collecting information on how students and scholars engage with the Career Center and broader university resources during their time at Vanderbilt, and then we are trying to see how that affects what they do after graduation." 
Data from previous years can be viewed on a new dashboard on the Career Center's website that was created in partnership with the Office of Data and Strategic Analytics. The data displayed on the dashboard came in part from the Graduate Pathway Survey.  
Last summer, the Career Center began using Handshake, an online platform that helps students discover opportunities from employers and provides a clearer picture of how students interact with the Career Center. Combining information from Handshake with the Graduate Pathway Survey data helps demonstrate how those interactions influenced student outcomes after graduation. 
The survey is also an opportunity for seniors to stay engaged with Vanderbilt after graduation. Personal information is kept confidential, but aggregate summaries of the data help the university strengthen recruiting partnerships with employers while also ensuring alumni records are up to date. 
Current graduating seniors can find a link to the two-minute survey in their email. Even if seniors have not finalized their post-graduation plans, they are still encouraged to complete the survey. Please contact the survey administrator, Jennifer Doersam, at surveys@vanderbilt.edu with any questions.