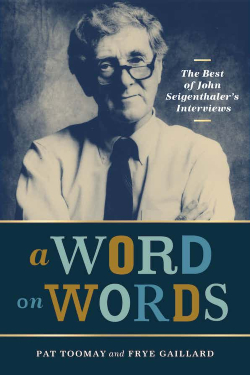 Vanderbilt University and the Freedom Forum celebrated the legacy of legendary journalist and First Amendment champion John Seigenthaler at an April 25 event discussing A Word on Words: The Best of John Seigenthaler's Interviews, published in March by Vanderbilt University Press.
Seigenthaler, a longtime editor, publisher and chairman of The Tennessean newspaper and the founding editorial director of USA Today, died in 2014. For more than four decades, he hosted the Nashville Public Television program A Word on Words, conducting in-depth interviews with some of the most notable authors of the day and sharing insights into their creative processes. The new book, edited by Vanderbilt alumni authors Pat Toomay and Frye Gaillard, collects and transcribes a selection of the most iconic interviews from Seigenthaler's time helming the series until 2013. The book will also be the subject of an upcoming segment on WNPT.
"John remains a national treasure—a keen and fearless defender of the values that define us and a transformative force in our shared history," Chancellor Daniel Diermeier said in his opening remarks. "His impact in our region was immense, serving both to illuminate and to inspire Nashville's vibrant intellectual and creative culture, and this new book continues his work."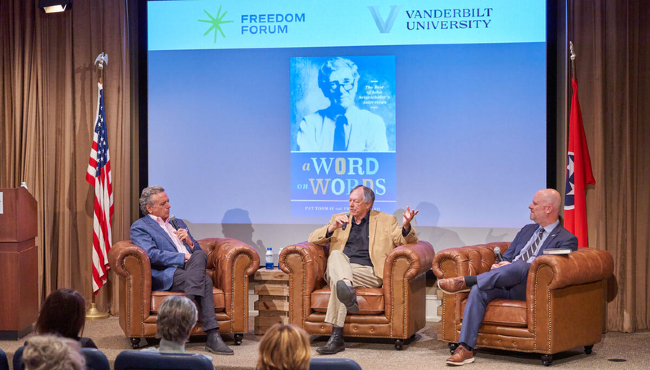 The April 25 event featured a conversation with Gaillard and Andrew Maraniss, who penned the book's epilogue. The discussion was moderated by television journalist John M. Seigenthaler, the late Seigenthaler's son. The event was held at Vanderbilt's John Seigenthaler Center, which houses the Freedom Forum, a nonprofit, nonpartisan foundation dedicated to fostering First Amendment freedoms for all, and the First Amendment Center, founded by Seigenthaler at Vanderbilt in 1991 to "help promote appreciation and understanding for those values so vital in a democratic society."
"It's an essential function of universities in our society to provide open forums where all viewpoints can come together to freely and respectfully debate the issues that matter to us most," Diermeier said. "Today, as culture wars and political division encroach on our campuses, and actors at both ends of the political spectrum attempt to hush our conversations, we must protect that vital role at all costs.
"In this way, John's partnership with Vanderbilt—started decades ago as home to the Freedom Forum—now seems nothing short of visionary."