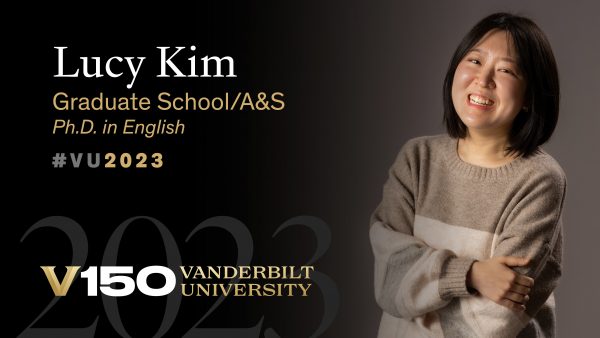 By Amy Wolf
In the six years Lucy Kim has worked as a tutor and mentor in Vanderbilt's Writing Studio, the Ph.D. candidate in the Department of English has held more than 800 appointments, providing writing support to more than 400 undergraduate, graduate and professional students.
To those impressive statistics, the South Korean native said calmly, "I've never really thought of my clients in terms of numbers or hours. Helping them is something that I do almost automatically because it's something that I cherish."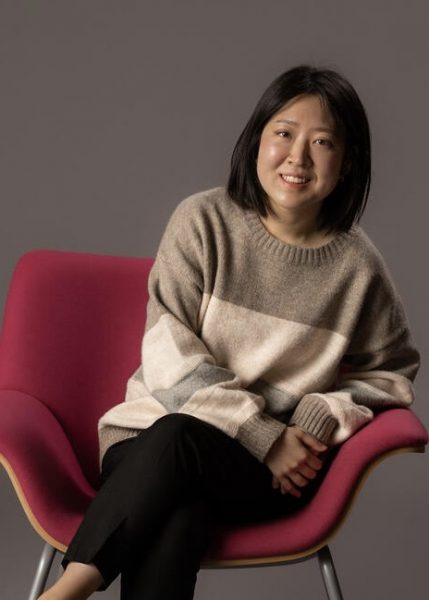 ENGLISH THROUGH A KOREAN LENS
Though she spent some of her early childhood in the United States, Kim has lived most of her life in Seoul, and her entire family remains there. She came to the U.S., and Vanderbilt specifically, to pursue a graduate degree in English, specializing in 19th-century novels.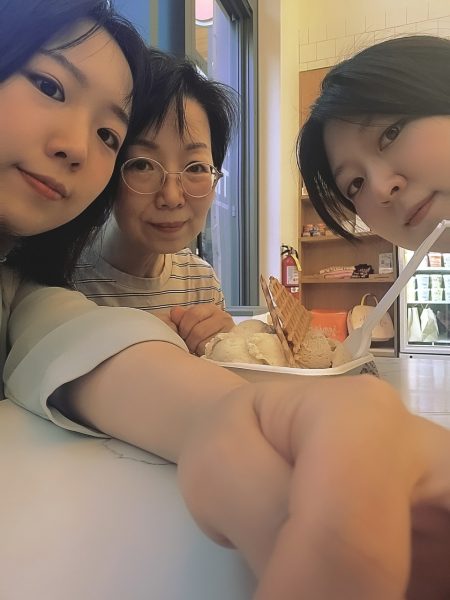 "It might sound contradictory, but I think as an international student, I bring a more patient, questioning perspective to my work. I try to be very careful about listening and not taking anything for granted because, as someone coming from outside the U.S., from a culture with a different value system, I'd hope that others would extend me the same grace and courtesy," she said. "It's important to me to honor others' thought processes, and I think that perhaps puts the students and colleagues I work with at ease."
Kim values studying and working in the U.S. because of the diverse pool of scholars with varied interests.
"Academically, I've just opened up myself to so many different ideas and schools of thought over the past six years," she said. "I've been involved in so many seminars and worked closely with students and colleagues who are invested in such unique projects that I feel like my world has really expanded intellectually."
MENTOR AND MORALE BOOSTER
Kim was drawn to work at the Writing Studio in part by the opportunities to connect with students and help them to find their voice through writing.
"I really appreciate being a consultant because there's an intimate interaction that you can get right off the bat since students are often sharing a personal part of themselves in the writing process," she said.
Students share that Kim offers considerate feedback and ongoing support for writers, helping them not only with their projects, but also with their confidence, tenacity and morale.
Kim relishes the partnership involved in writing, especially when a student finally has an "aha" moment.
"I think it's thrilling, in a maybe nerdy way, because it's a joint process with both of us working to find that right word, that right sentence, that right passage," she said. "It can be thrilling because you can see the writer experience a sense of empowerment from finding just the right way to express themselves."
DICKENS AND CITY LIFE
Kim's academic focus is broadly 19th-century novels—such as the works of Charles Dickens, George Eliot, Thomas Hardy and others. Her dissertation explores how the rise of urbanization in the 19th century impacted novels written during that time.
"I became interested in this topic because I've been living in cities my entire life, and I have a bit of an aggravation when people talk about cities as if they are all one big uniform thing. New York is different from Los Angeles, and London is different from Nashville, especially in terms of histories and peoples," she said.
"My interests in both cities and novels blended together into the culture and history of urbanization in 19th-century writing."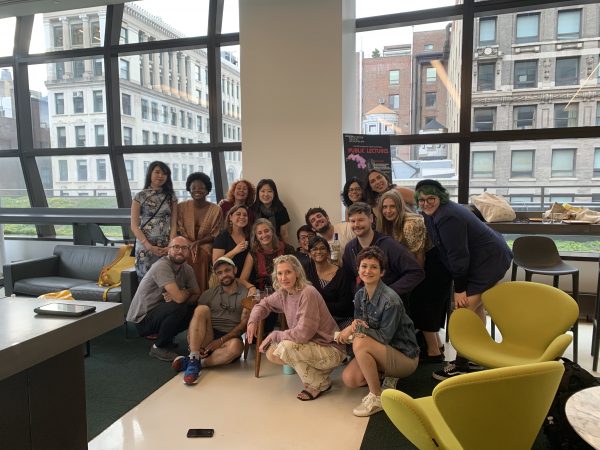 NEXT STEPS
Kim is keeping her options open for how she will use her advanced writing and English expertise after earning her Ph.D. She is examining multiple paths, such as academic tenure-track lines, advancing writing center work as well as composition and writing program development.
"Vanderbilt has taught me that I find a lot of purpose in helping people find their voices, and I feel like I can do that in many different ways," she said.
THREE QUESTIONS…
WHAT MAKES VANDERBILT SPECIAL TO YOU?
"I came to Vandy when I was in my late twenties, and now I'm in my mid-thirties. It was really a time of forging my own path personally, academically and intellectually, and I did it all at Vanderbilt and in Nashville. For that reason, Vanderbilt and Nashville will be very special to me because it's here where I was able to carve out and explore these paths that I've chosen."
HOW HAVE YOU EVOLVED IN YOUR TIME AT VANDERBILT?
"I've become more proactive and independent because I had to make a home for myself and cultivate a sense of community in a place where I had no family, no prior connections. Whether in my department, graduate circles, at the Writing Studio or friend groups inside and outside Vandy, I've made a conscious effort to build a strong, supportive network of friends."
AS A WRITER AND EDITOR—HOW HAS IT FELT BEING INTERVIEWED FOR A STORY LIKE THIS?
"I have to say, I'm not really used to this! It feels a lot like the free writing that I encourage my clients to do when they're stumped. In those cases, I encourage students to just free write without thinking about punctuation, grammar or anything and let their thoughts and feelings come out. There's always time for careful finessing later."