John C. Kornblum, former ambassador to the Federal Republic of Germany and assistant secretary of state, has been reappointed Distinguished Ambassador in Residence in the College of Arts and Science by Chancellor Daniel Diermeier. Kornblum will play a key role in ongoing initiatives to grow Vanderbilt's international reputation and expand the university's global influence.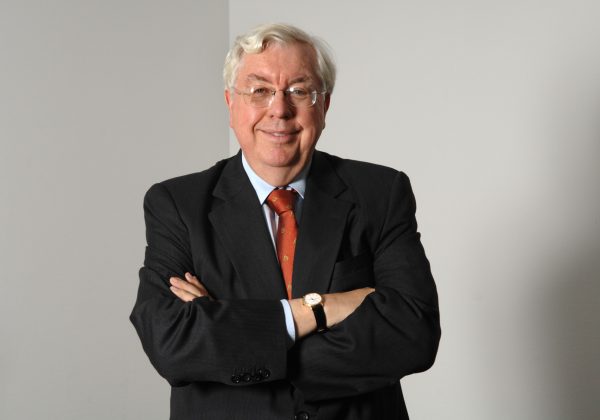 "It is an honor to have Ambassador Kornblum as a member of our Nashville and Vanderbilt University communities. As an internationally renowned diplomat, statesman and scholar, his expertise is invaluable to our students and fellow faculty," Diermeier said. "As the university's international reputation continues to thrive, Ambassador Kornblum's presence will only propel Vanderbilt into its role as a leading global institution."
Kornblum holds that Vanderbilt's traditions, its location in Nashville and its track record in teaching and research position it perfectly to lead the charge in meeting the challenges posed by globalization.
"Vanderbilt is home to world-class faculties for medicine, law, business, scientific research and the humanities. Its international institutes and global outreach are growing each year," he wrote. "Nashville sits within 600 miles of 50 percent of the U.S. population and is home to dozens of international companies, including Nissan, Volkswagen and Daimler. Vanderbilt is thus the natural academic institution to exert intellectual leadership over the transformation in America's most dynamic region."
Kornblum will be a key player in Vanderbilt's second Summit on Modern Conflict and Emerging Threats next month, and he will continue to consult with university leadership and partners on preparing the university to enter a new phase of influence in the regional, national and international domains.
Kornblum, who has been affiliated with the Max Kade Center for European & German Studies since 2020, has built his career on managing shifting geopolitical and industrial dynamics, and he recognizes the myriad challenges presented by ongoing uncertainty around the world.
He sees similarities between the Cold War and today's transition to a globalized flow of information, and he predicts that value and values will be the measure and fuel of the future: Value will be the unit of measurement that supersedes profit as an indicator of success or failure, and values like openness, tolerance and justice will underpin innovation and social equilibrium.
"Creating a narrative which defines Western values as the best road to governing this transition is a project which falls in the same league as the Apollo moon landing or tearing down the Berlin wall," Kornblum wrote. "It is likely to be the major political and philosophical task of the 21st century."
Diermeier said that Kornblum's expertise is particularly valuable at this point in Vanderbilt University history: "This year, we mark the 150th anniversary of our founding. We are excited to continue our rapid growth trajectory, and Ambassador Kornblum will play an important role in this effort. We look forward to his vital contributions to our university community, and to his continued international leadership."
Kornblum began his diplomatic career in Hamburg, Germany in 1964. In 1985 he was appointed United States minister and deputy commandant in Berlin, where he orchestrated the iconic appearance of President Ronald Reagan at the Brandenburg Gate in June 1987.
He continued his diplomatic career as the deputy United States permanent representative to the North Atlantic Treaty Organization in Brussels from 1987 to 1991 and the first American ambassador to the Organization on Security and Cooperation in Europe in Helsinki and Vienna from 1991 to 1994. His efforts included integrating Eastern European nations and former Soviet Republics into western structures and the first diplomatic efforts to control the Balkan war.
As senior deputy assistant secretary of state for European affairs and assistant secretary of state from 1994 to 1997, Kornblum worked on enlarging NATO and the European Union, with special arrangements for Russia and Ukraine. He also served as deputy chief of the Bosnian peace negotiations and was special United States envoy to the Balkans from 1995 to 1997.
His final diplomatic role was as United States ambassador to Germany, becoming the first American ambassador to serve in a united Germany since 1941.
He moved to the private sector in 2001, where he:
Served as chairman for Germany, Lazard and Co. GmbH and a member of the supervisory board for Lazard Asset Management, 2001–09
Served on supervisory boards of Bayer AG, Thyssen-Krupp Technologies and Motorola Europe; advisory boards of Macquarie, Russell Reynolds and Management Circle; and as a political adviser to Accenture Germany
Founded the American Academy in Berlin, the English language public service radio station KCRW Berlin and the John F. Kennedy Atlantic Forum, an organization dedicated to furthering transatlantic entrepreneurial dialogue
Received the U.S. Department of State Secretary's award, several state department distinguished honor awards, a medal of honor from the Organization for Security and Cooperation in Europe and a silver medal from the American Chamber of Commerce in Germany
Was named an honorary citizen of Sarajevo