The Office for Equity, Diversity and Inclusion will host an information and interest session for a new Jewish Employee Affinity Group. The gathering will be at 11 a.m. on April 25 at 19th and Grand Avenue Building, Conference Room 151. Those who identify as Jewish are encouraged to attend. The meeting is open to all Vanderbilt employees, including staff, faculty and postdoctoral scholars, regardless of identity. 
The goal of the interest session is to gather input, ask questions and offer suggestions about how a Jewish Employee Affinity Group at Vanderbilt can best serve this community, including creating programming for Jewish individuals and their families.  
Kosher refreshments will be provided.  
This event is part of the university's Employee Affinity Group program, supported by the Office for Equity, Diversity and Inclusion in partnership with Human Resources. The university has 12 EAGs, including:  
Association of Vanderbilt Black Faculty and Staff

 

Asian American Pacific Islander

 

Disabilities and Chronic Health Conditions

 

Early Career Professionals

 

Golden Dores (50+ age)

 

Glammadores (LGBTQI+)

 

International

 

Latinx

 

Mid-Career Professionals

 

Military and Veterans

Single Parents

Women and Working Moms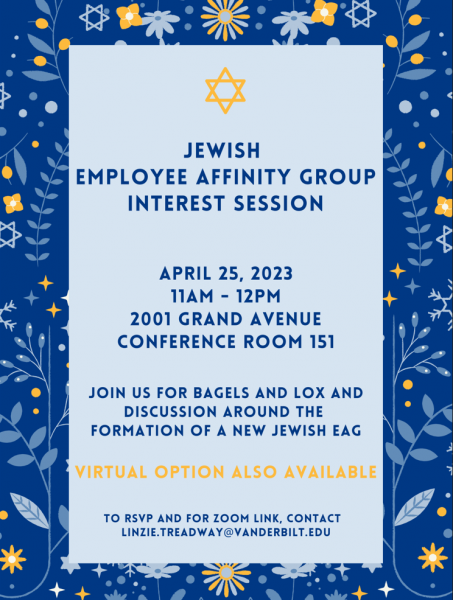 To RSVP to the interest session, email Linzie Treadway at Linzie.treadway@vanderbilt.edu. 
Learn more about these groups, or suggest a new Employee Affinity Group.