Krishnendu "Krish" Roy, a Regents' Professor at Georgia Institute of Technology and a nationally renowned researcher, will be the next Bruce and Bridgitt Evans Dean of Engineering of the Vanderbilt University School of Engineering, Provost and Vice Chancellor for Academic Affairs C. Cybele Raver announced today.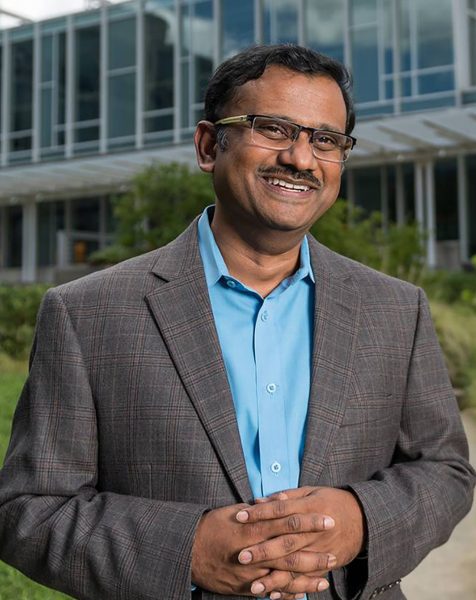 Roy will be a University Distinguished Professor at Vanderbilt and succeed Philippe Fauchet, who led the School of Engineering for 11 years through significant and strategic growth in research collaborations, academic programs, endowed chairs and faculty and student recruitment. Fauchet, a professor of electrical engineering, will step down June 30 and return to the faculty in 2024 after a sabbatical. 
Roy brings clear strategic vision and leadership acumen to his new role as dean of Vanderbilt's School of Engineering. He is a champion of big ideas who has helped secure more than $85 million in funding from federal, state, industrial and philanthropic sources. Roy and his collaborators have applied this funding to discover innovative ways to deliver new therapies to treat complex diseases like cancer and tuberculosis.  
As Vanderbilt's next dean of engineering, Roy also will strengthen interdisciplinary and cross-college collaborations at Vanderbilt, and he will expand faculty opportunities to work with federal and industry partners. At Georgia Tech, he has directed multiple centers that lead cutting-edge biomedical research, including the National Science Foundation Engineering Research Center for Cell Manufacturing Technologies, the Marcus Center for Therapeutic Cell Characterization and Manufacturing, the National Institutes of Health's in-depth cell characterization hub and the Center for Immunoengineering.   
"Krish Roy has made multiple pathbreaking contributions in the fields of vaccines and immunotherapies, biomanufacturing and regenerative medicine. His research focuses on new biomaterials-based strategies to tackle a wide range of diseases, including cancer, infectious diseases and trauma," Raver said. "Professor Roy's award-winning work as a pioneering biomedical engineer and leader of large, high-impact research centers places him in excellent position to lead our School of Engineering as we pursue bold, collaborative discovery and innovation. In expanding the school's work not only in biomedical engineering, but also in other important areas such as climate solutions, transportation, cybersecurity and big data, Professor Roy will build on the faculty's accomplishments made under Dean Fauchet, to whom we are grateful for 10 years of transformative leadership."  
Roy, who earned a Ph.D. in biomedical engineering from Johns Hopkins University, is a leader in the emerging field of immunoengineering and cell manufacturing. Immunoengineering focuses on creating scientific tools to investigate, understand and modulate the immune system while cell manufacturing brings engineers, scientists and clinicians together to develop engineering-driven technologies for scalable manufacturing of high-quality and affordable cell therapies. He is also interested in the use of disease-on-a-chip technologies and micro- and nanotechnologies for drug delivery, drug discovery and tissue engineering applications.  
Roy currently works in the Wallace H. Coulter Department of Biomedical Engineering, a partnership between Georgia Tech's College of Engineering and Emory University School of Medicine. In addition to serving as Regents' Professor—a recognition reserved for the most distinguished faculty within the University System of Georgia—he holds the Robert A. Milton Endowed Chair.  
"Bringing Professor Roy to our campus signals our continuing intent to make our School of Engineering one of the most respected and consequential in the world," Chancellor Daniel Diermeier said. "It shows once again that our university is a destination of choice for many of the world's most expert and accomplished faculty. With his demonstrated skill in winning external funding and establishing cross-sector partnerships, Professor Roy will lead our School of Engineering forward at a moment when the world urgently needs its innovations."  
In recognition of his seminal contributions to a cross section of specialties within biomedical engineering, Roy has been elected a fellow of the American Institute for Medical and Biological Engineering, the Biomedical Engineering Society and the Controlled Release Society. He also has received the NSF CAREER Award, young investigator awards from the Society for Biomaterials and the Controlled Release Society, and the Global Indus Technovator Award from MIT, among others. Later this month, the Society of Biomaterials will recognize Roy with its Clemson Award for Basic Research for his contributions to the basic knowledge and understanding at the interaction of materials and the immune system. The award is given for significant research, important original publications, and frequent reference to and reliance on this work by fellow researchers. 
Roy serves as a member of the editorial advisory boards of several journals, including the Journal of Controlled Release and the Journal of Advanced Biomanufacturing and Bioprocessing. He is a member of the Forum on Regenerative Medicine of the National Academies of Science, Engineering and Medicine and a board member of the Standards Coordinating Body for Regenerative Medicine. 
"I am privileged to join the incredibly collaborative culture at Vanderbilt, surrounded by world-renowned faculty within the School of Engineering and across the university," Roy said. "The shared vision of Chancellor Diermeier and Provost Raver to grow and establish Vanderbilt Engineering as one of the most influential and recognized engineering schools in the world aligns perfectly with my aspirations. My goal is to ensure that Vanderbilt Engineering is a diverse, inclusive and equitable place that has a profound impact on the advancement of society and the human condition, locally and globally, and that it trains the most impactful engineering leaders of the future. Vanderbilt's ranking as one of the top universities in the world only adds to the excitement and potential of the incredible journey ahead." 
Roy received an undergraduate degree from the Indian Institute of Technology Kharagpur, followed by a master's from Boston University. After earning his Ph.D. from Johns Hopkins University, he joined Zycos Inc., a biotechnology startup, as a scientist in its drug delivery research group. Roy returned to academia in 2002 on the faculty of the University of Texas at Austin. He joined Georgia Tech's faculty in 2013. In addition to his research awards, Roy has been selected by students for a Best Teacher Award and a Best Mentor Award.  
Roy's selection was conducted with the guidance and support of the School of Engineering Dean Search Committee, chaired by Lawrence Marnett, dean emeritus of the School of Medicine Basic Sciences. The committee included Peabody College Dean Camilla Benbow, Board of Trust member Corey Thomas, BE'98, faculty members from multiple disciplines in engineering, faculty from Owen Graduate School of Management and the School of Medicine, and a current student.