Media Inquiries
Latest Stories
Vanderbilt recently hosted scholars from Fordham University for the public roundtable discussion "Confronting Hate: Antisemitism and Racism" to explore how historic occurrences of antisemitism and anti-Blackness inform current white supremacist movements in the United States.
"There is a crucial need to create space for these conversations for Vanderbilt students, faculty and staff, as well as for our surrounding community," said Tiffiny Tung, vice provost for undergraduate education. "We are grateful to the Vanderbilt faculty and visiting scholars for sharing their expertise in the linked histories and experiences of antisemitism and racism, which created an opportunity for an informed, timely dialogue with a public audience."
The program featured Magda Teter, Shvidley Chair of Jewish Studies at Fordham University; Westenley Alcenat, assistant professor of history, urban studies and American studies at Fordham; and Sophie Bjork-James, assistant professor of anthropology at Vanderbilt. Allison Schachter, associate professor of Jewish studies and chair of the department, moderated the discussion.
The panelists represented a wide range of research interests, including the Haitian Revolution and universalist conceptions of citizenship, Medieval Jewish history, and contemporary white nationalist movements, noted Schachter.
"The panelists addressed the urgent need to speak across communities and contexts to build new solidarities," she said. "I hope those present took away from the event how to effectively talk about these histories together, how to listen to the pain of others, and how to move forward with solidarity movements that can resist the rising tide of hate."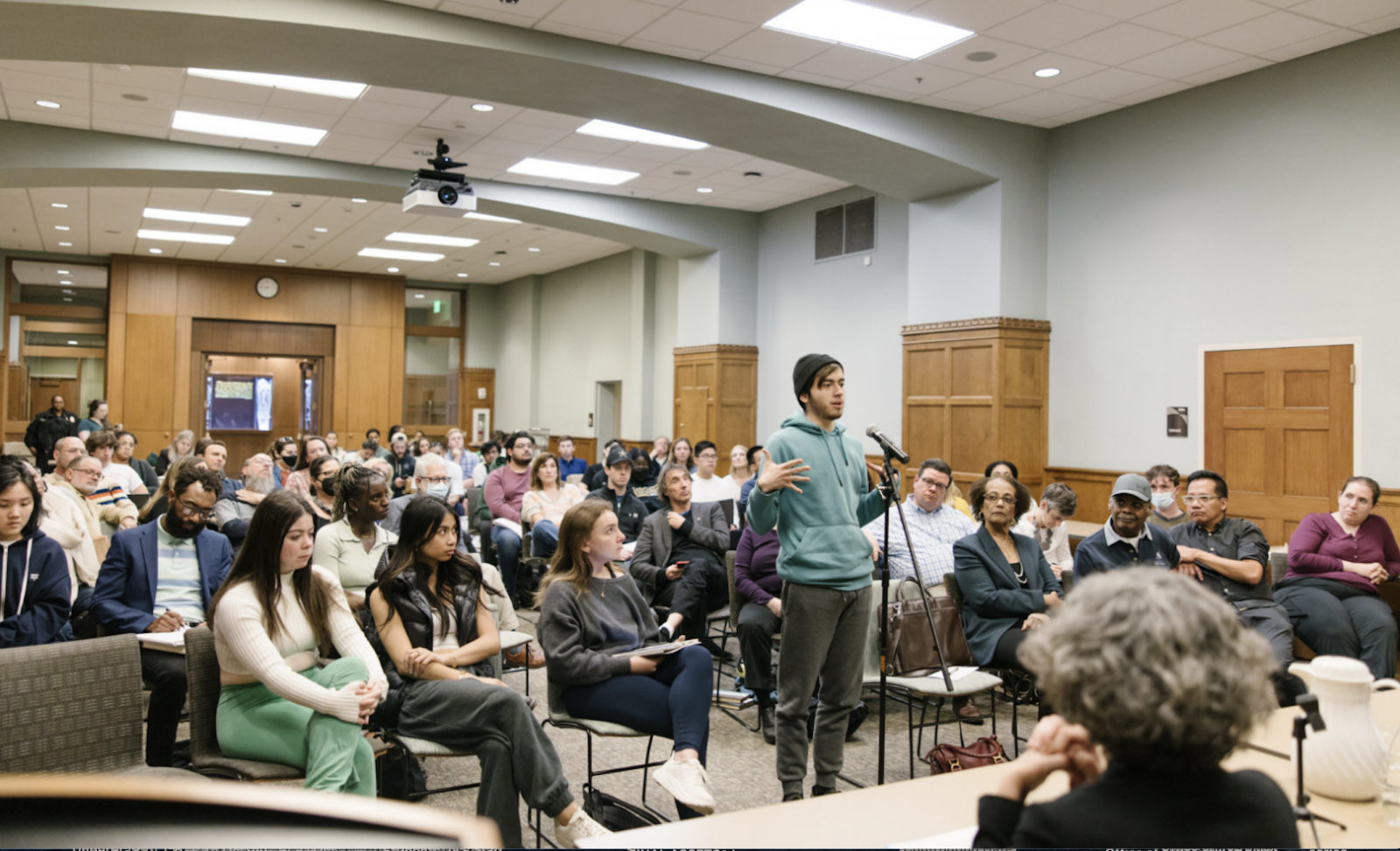 Held March 28, the program was a collaboration between Jewish Studies and the Office of Undergraduate Education in the Office of the Provost, with support from American Studies, African American and Diaspora Studies, and History. It was attended by more than 60 students, faculty, staff and community members. Melissa Gresalfi, dean of residential colleges and residential education, hosted a dinner and related discussion for students with Teter, Alcenat and Schachter prior to the public discussion.
"Nowadays, the information I'm getting day to day on social media is not necessarily credible, so it felt nice to listen to a discussion that was historically and socially informed," said psychology major Lexi Blakes, Class of 2024. "I was greatly impacted by Dr. Magda Teter's insights into the tension in conversations on trauma and oppression between the Black and Jewish communities, because it's something I've observed and have always wanted to understand the root of."
Bjork-James also underscored the importance of the program, particularly considering recent antisemitic events in Nashville.
"Antisemitism is a growing and dangerous threat, but it is also very poorly understood by the public," she said. "Vanderbilt can play a unique role in the region (by) highlighting the significance of this threat and bringing in different voices to speak on this issue. I hope we are able to see more community-oriented events like this in the coming year."
Teter and Alcenat have co-taught a course titled "Antisemitism and Racism" at Fordham University to explore the shared histories of antisemitic and racist ideologies in a global context. They also have collaborated on an exhibit with their students on the themes of the course.