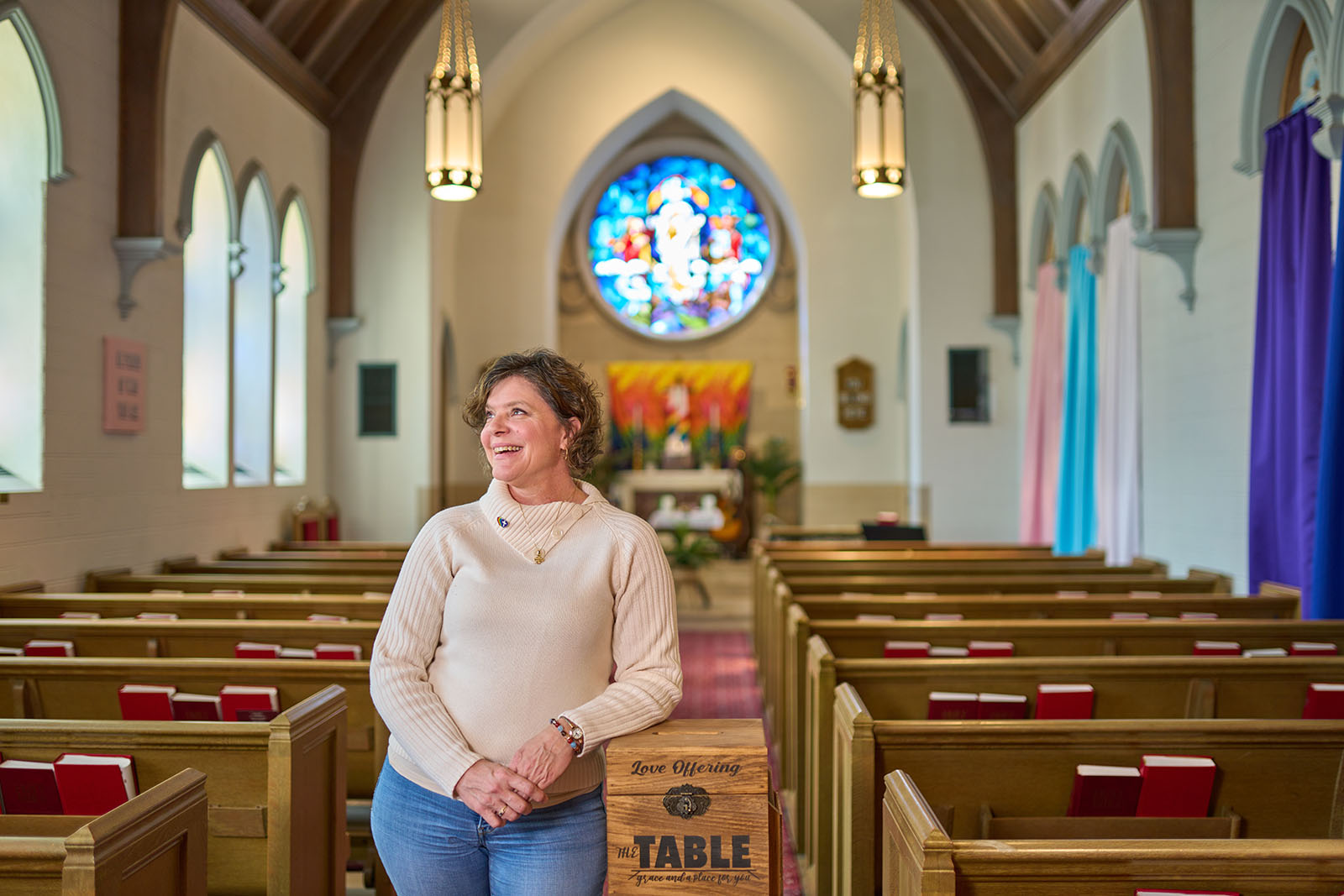 Dawn Bennett has found paths to servant leadership throughout her life, but it was decades before she made a leap of faith and enrolled in Vanderbilt Divinity School. In January 2020, she was ordained by Bishop Kevin Strickland to remain in Nashville and build The Table, a faith collective centered on LGBTQIA+ people and vulnerable identities.
Raised Catholic, she grew up on a small island in southwest Florida, married her high school sweetheart and started a family. She left Catholicism after the birth of her first child, followed her spouse into the ELCA Lutheran church and moved from Florida to Tennessee.
She continued to find ways to minister within her local church and community. In her 40s she went back to college, earning a degree in psychology that was particularly helpful in the work she was doing with those whose lives are affected by incarceration and religious trauma.
Encouraged by a friend and colleague to apply to Vanderbilt Divinity School, she was floored when she was accepted—and a little terrified. "When I read the letter of acceptance, I said out loud, 'Oh crap. Now what do I do?' and in my mind I heard God speak to me crystal clear, 'Go.'"
She entered divinity school single and out as queer. Despite all her fears and misgivings, Vanderbilt fit like a hand in a glove. "By the time I made it to Vanderbilt, God had revealed my mission field," she says. "The institutional church has done heinous things to LGBTQ+ families, and mine is no exception. Vanderbilt Divinity School is known for its reputation of radicalized grace. I doubt I would be the pastor I am today had I gone anywhere else."
It is precisely because of the "deep soul wounds" organized religion has caused and continues to cause the LGBTQ+ community that she is driven to heal and lead from within. "I wanted to build the ministry in tandem with community organizing, to serve the community in ways that don't look like church, because in my view, most ministry happens outside the sanctuary."
A Cal Turner Fellow while at Vanderbilt, she received the LGBTQ Nation Hometown Hero award in 2021 for her advocacy work and ministry with LGBTQ+ and marginalized persons. Now she supervises two Vanderbilt Divinity students as their theological conversation partner.
Vanderbilt, she says, was the yellow brick road that led her to where she is now, but she knows much hard work lies ahead. "The LGBTQ+ community is under attack in this country and in churches. What is happening through the hands of religious bigotry is killing people. I have to believe the vast majority of people are outraged by that trajectory. As long as I have breath in my body, this is the work I will do."
—Kay West