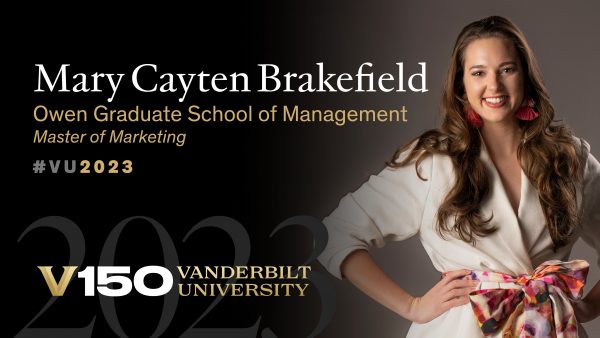 By Amy Wolf
The saying "what doesn't kill you makes you stronger" is especially apt for Mary Cayten Brakefield. The health challenges she faced while an undergraduate student-athlete at the University of Tennessee made her more resilient, creative and fiercely motivated to build a business that would make a difference.
Now, with tools and support from the Owen Graduate School of Management, Owen Center for Entrepreneurship, the Wond'ry, Vanderbilt's Innovation Center, and the Turner Family Center for Social Ventures at Vanderbilt, Brakefield is using her experiences with physical illness and disability to inform her fashion business focused on accessible and inclusive universal design.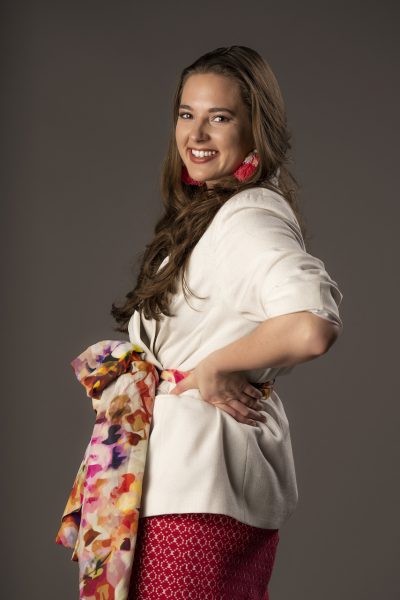 "I got very sick my sophomore year of college while I was on the UT swim team and had my ability levels completely change seemingly overnight. I went from feeling very healthy and swimming at a college level to being disabled," said the Nashville native, who is earning a master of marketing degree at Owen. 
BREAKDOWN TO BREAKTHROUGH
After a long medical journey that included multiple episodes, devastating effects to her body and severe mental stress, Brakefield eventually was diagnosed by doctors at Vanderbilt University Medical Center with two rare syndromes that are now being treated successfully.
"I can look back now and see that the experiences I had with my health and the changes in my abilities were a launching pad to something else—a way that I could help other people and make this story not about myself and my illness, but about something greater," she said. 
LEARNING FROM ADAPTIVE ATHLETES
Brakefield said her inspiration for an inclusive clothing line was born after connecting with adaptive athletes who talked about how frustrating it is to get dressed, let alone find clothes that are fashionable and comfortable. 
"I am such a believer that fashion is not frivolous. Fashion is important because being able to express yourself and feel genuinely like yourself is incredibly valuable," she said. "There is an entire population that is not necessarily being served well by the fashion industry."
INCLUSIVE FASHION LINE
Brakefield's mom began teaching her to sew in elementary school. After her health emergency, the two partnered in creating their namesake clothing line featuring functional silhouettes and a special mission. 
"At Brakefields, our end goal is inclusion, accessibility and universal design," Brakefield said. "It's a clothing brand and a philosophy of creating a place where people of different body types, different abilities and different lifestyles can come together and feel great about what they're wearing."  
BUSINESS SAVVY AND SUPPORT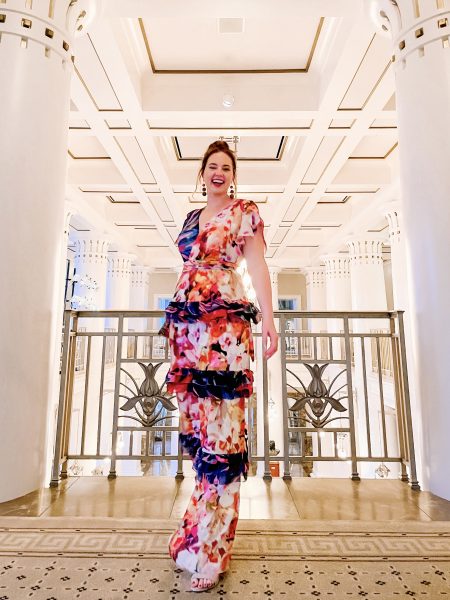 Brakefield fine-tuned her talent for design, fit and patterning by working with her mom and a costume professor in the theatre department at University of Tennessee. For business support, she came to Vanderbilt. 
"There are so many things that I didn't know I didn't know about the business side," she said. "I'm so glad I've been at Owen and had such phenomenal professors and mentors that have shown me exactly the areas where I'm lacking and how to grow in those areas. I know that it's only going to make our company better, and it will only make me better as a student and a person." 
Brakefield said mentors from Vanderbilt's Turner Family Center helped her learn about social enterprise and how to be successful in the business world in a way that focused on positive impact as much as profit. She has also worked closely with the Wond'ry to integrate innovation into her business. 
"I wanted to take advantage of everything available (at Vanderbilt) and make sure that on the stage at graduation, I know there is nothing left," she said. "I'm so glad to be at a school that has all of these resources and amazing people to help us achieve whatever our goals are.  
"I am excited and ready to take everything I've learned and help my business grow and succeed." 
THREE QUESTIONS … 
WHAT WILL YOU TAKE WITH YOU WHEN YOU GRADUATE?
"There are so many incredible students with inspiring stories that I'll carry with me. I love the idea of not only creating those friendships now, but also seeing how those relationships will grow in five, 10, 20 years from now as we continue to support each other as alumni." 
WHAT SEND-OFF MESSAGE DO YOU HAVE FOR YOUR COMMUNITY?
"I would want to send the absolute biggest thank-you in the whole world to everyone at Owen. I cannot even say how much time my professors have spent outside of class with me. I have had so many people from the Turner Family Center, the Wond'ry, all of the librarians and so many others who have invested time above and beyond what I ever could have imagined or asked for. 
"It has been truly phenomenal to see how selfless so many of the staff members have been and how excited they are about what all their students are working on. I'm incredibly grateful to have been on the receiving end of their knowledge, expertise and compassion." 
VANDERBILT IS …
"Vanderbilt to me is collaboration. And Vanderbilt to me is innovation."