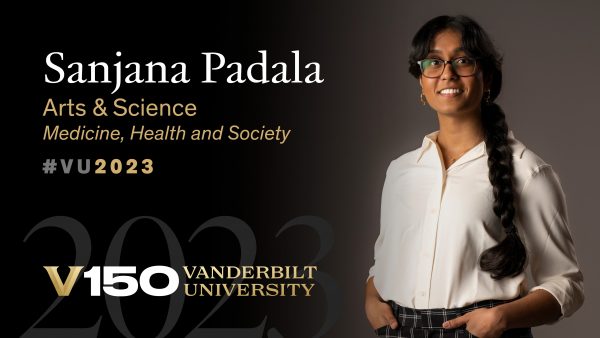 By Amy Wolf

Sanjana Padala, a medicine, health and society major from Little Rock, Arkansas, has a heart for helping those who might feel unheard. Whether volunteering at Veterans Affairs hospitals, tutoring fellow students in physics, creating cultural connections through Asian American clubs, or dreaming of a future working in health care and helping to support mental and physical health equity, Padala's calming and optimistic nature fosters connection.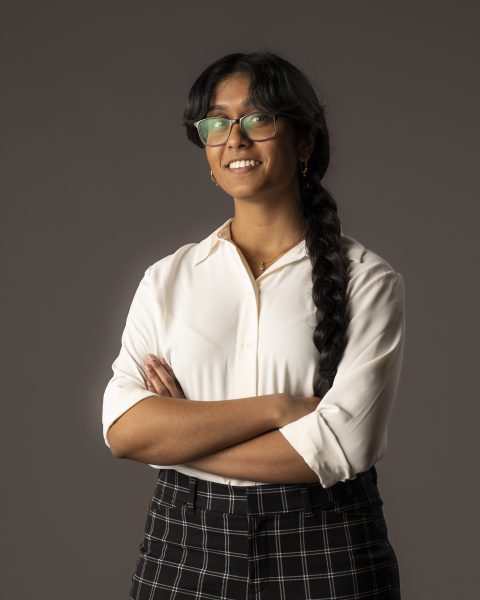 "To me, Vanderbilt is all about building a collaborative community. It's so precious to me," she said. "Beyond my own dreams, there are so many people here who have amazing and unique goals, and I love supporting that." 
SOCIAL UNDERSTANDING IN HEALTH CARE
Padala will be starting medical school at the University of Arkansas for Medical Sciences and aspires to be a child and adolescent psychiatrist.
"Many mental health issues begin at a young age, and I want to be at the forefront of finding solutions and helping adolescents so they can learn to manage and even surpass their mental health challenges," she said. 
Padala said her medicine, health and society classes within the College of Arts and Science have given her a timely and thought-provoking perspective on health care needs. "I'm on the inequality, intersectionality and health justice track, which lets me explore all these social paths within the health care field," she said. "This semester I'm taking a class on the politics of reproduction, which is super interesting and important at this time. Last semester I took a compelling LGBTQ+ health disparities class." 
Padala has spent a good part of her undergraduate career as a research assistant for the Vanderbilt Qualitative Research Core within the Vanderbilt Institute for Clinical and Translational Research. She combines coding and data analysis skills to better understand patients with the goal of improving care. Leaders of that group say Padala has become an expert in qualitative research methodology and developed considerable expertise in interdisciplinary collaboration.  
Some of her projects include examining how patients feel about telehealth follow-up visits after care in the ICU, and documenting reactions within the African American community on the social promotion and physical effects of the COVID-19 vaccine. She also coached nursing doctoral students on the development and use of coding systems for their dissertation studies.  
HELPING FELLOW STUDENTS
Padala's interest in mental health, and her empathy with her peers over the stresses of college life, are part of why she became a teaching assistant for fellow undergraduates in a challenging introductory physics class. 
"I'm going to be honest—in high school, physics sucked," Padala said with a laugh. "But at Vanderbilt I took physics with Dr. (Savanna) Starko, and she made the whole experience so enjoyable by creating this collaborative environment. Her class was the first physics class that I took where I felt I could breathe, where I felt that I genuinely knew what I was doing and could maybe even help others who were in the same situation that I had been in." 
ASIAN AMERICAN ADVOCACY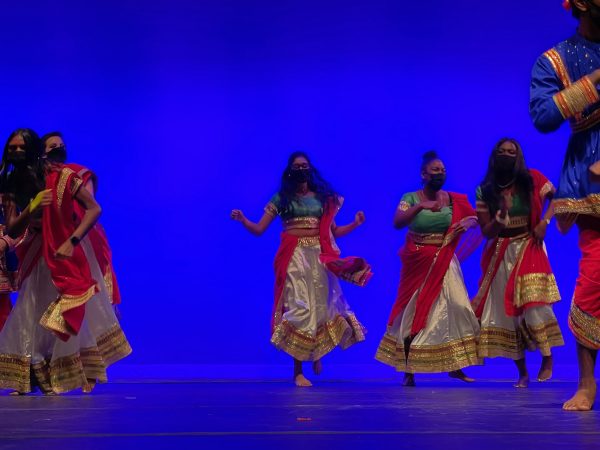 Outside the classroom and lab, Padala has found inspiration working toward shared goals with the Asian American Advocacy Project at Vanderbilt to create a more inclusive space for students who identify as part of the Asian and South Asian diaspora. 
 "We've done a lot of things—from bringing more Asian and Indian cuisine into dining, which helps make students feel more at home, to bringing Asian American counselors here, so that students can seek that kind of treatment if they like. And we even succeeded in helping to get a new Asian American studies major and minor, which is super amazing," she said. 
Padala has found that through this work she's fostered a greater appreciation for her Indian American culture as well as other cultures. 
"Having this group of people, with such different backgrounds and experiences, who are all working toward a like-minded goal has been inspiring," she said. "There are so many different cultural organizations, and the opportunities to attend events, learn about people, eat their food and just be a part of their lived experience is so fun and amazing. It's a really great part of being at Vanderbilt." 
THREE QUESTIONS…
WHAT WAS A PIVOTAL MOMENT IN YOUR TIME AT VANDERBILT?
"I volunteer at the Veterans Affairs hospital here, and I've been volunteering at veterans' facilities since high school. I felt like I connected with a lot of the people there just by listening to them, especially the elderly population who are sometimes neglected. I think this time was pivotal in understanding that maybe I should go into medicine.… And the veterans taught me how to play dominos!" 
WHAT WILL YOU MISS ABOUT VANDERBILT?
"I'll definitely miss my friends and my community. I feel like I've just met so many amazing people here, all of whom have these goals that I couldn't even imagine until I came here. And I genuinely enjoyed the education I've received. Some of the classes I've taken have been so fun to participate in and so insightful.
"And the food is a big one. I'm from Little Rock, Arkansas, so not the biggest city, you know? The food in Nashville is great!" 
WHAT IS YOUR SEND-OFF MESSAGE TO VANDERBILT?
"I would say to my friends, to the faculty, to everyone—just continue supporting each other. I think having this collaborative community is so important and so precious. It's something that we may not experience as much outside of college. I definitely think it's important to continue building people up and building community."