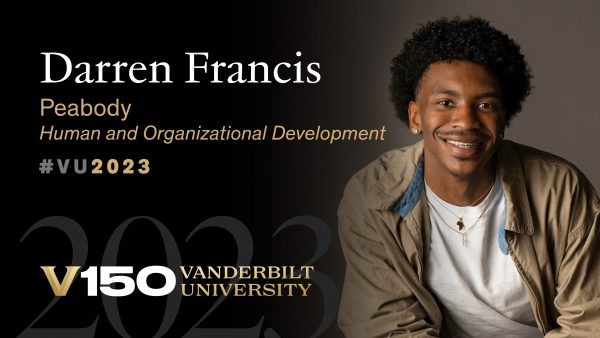 By Amy Wolf

College is about learning, exploring, challenging preconceived ideas and connecting with others as students prepare to make an impact in the world. New Orleans native Darren Francis has taken all these principles and woven them through his academic, social and faith journeys at Vanderbilt.
"Intentionality and collaboration are the two best words to define the past four years. I've worked very intentionally to grow into myself and learn from others to become more of the person I want to be," said Francis, a human and organizational development major.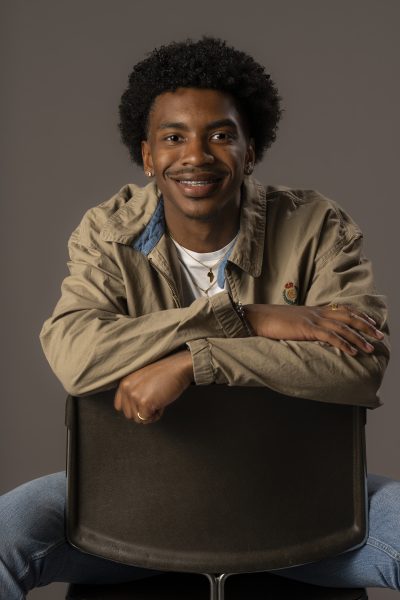 "I think the best way to bring my best foot forward in the classroom, or when I'm giving admissions tours, or even when I'm working with the different organizations that I'm a part of, is by quite honestly being myself. And that's where that real intentionality came from," he said.
FAITH IN COMMUNITY
Francis, a recipient of the Berger Family Scholarship, came to Vanderbilt with Christianity as his core foundation. He said relaunching and leading a student-led organization Voices of Praise brought his faith and connection with others to a new level. Voices of Praise is a gospel ministry collaborating through Bible study, choir, dance, chosen step and spoken word.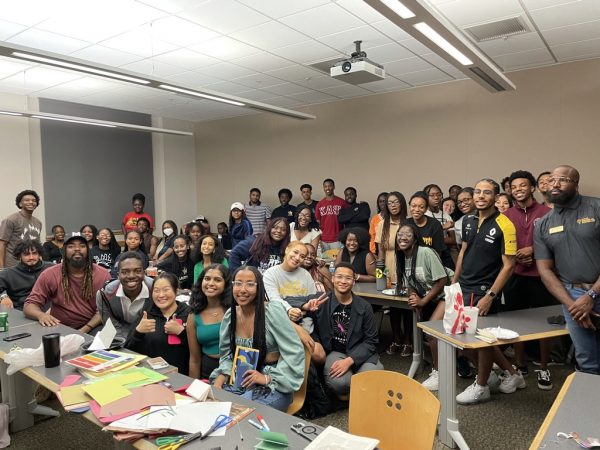 "I found ways to have fun and celebrate and explore my relationship with God beyond just the weight of adhering to rules," he said. "With this space, we had a chance to breathe a little and have conversations that we don't always get to have about relationships, about mental health, about sexuality, about literally anything."
FAITH IN ACADEMICS
Francis also found ways to connect his faith with his academics. He completed an HOD capstone project at the historic Watson Grove Baptist Church, crafting a strategic plan for their young adult's ministry.
"For my capstone, I took the research and survey skills that we learned in systematic inquiry and other courses to help create a more inviting and more inclusive community for their college ministry. I also used persuasive writing skills and techniques from my classes to apply for different grants to support the church," he said.
"I cannot say enough good things about my human and organizational development classes because I am once again bringing together those spaces where I'm here to learn with what I love," he said. "Finding that there is actually a major here where I could do that consistently is something that I definitely appreciated."
THREE QUESTIONS…
WHAT HAVE YOU LEARNED ABOUT YOURSELF WHILE AT VANDERBILT?
"Working in a place like Vanderbilt, where you're surrounded with so many brilliant students, I think there's a tendency to hold oneself to a painfully high standard. I had to learn quickly that there's no such thing as a perfect Vanderbilt student, and ultimately no one can be a better Darren than Darren."
WHAT IS A GOOD VANDERBILT CONNECTION MEMORY YOU'VE HAD?

"My indoor basketball pickup games at the Rec Center are the best ways to connect. It's always so cool to me that I can go in and play basketball with, you know, grad students, undergraduate students, staff, just seeing that there are so many people coming from so many different walks of life."
"I always think back to one very specific example of a guy that I always played with. He was really good at basketball, and I eventually went to follow him on Instagram and found out that he was at Blair and absolutely insane at piano. I just knew him as the guy that I had trouble guarding!"
VANDERBILT IS…
"Vanderbilt is opportunity. The world is kind of your oyster here, and you have so many different opportunities to enjoy or explore whatever it is that you are really passionate about or grow to become passionate about. So I think that definitely Vanderbilt is opportunity."