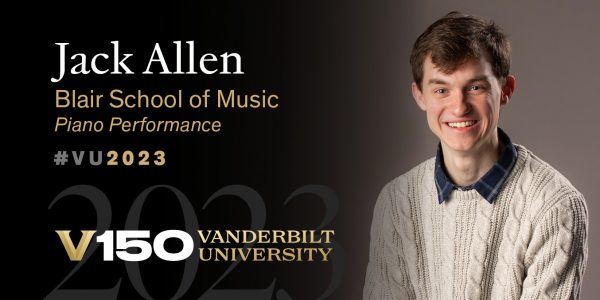 By Amy Wolf
For some, a piano is just an instrument. For Jack Allen, a piano performance major at the Vanderbilt Blair School of Music, it is a vehicle for compassion, inspiration, teaching and community.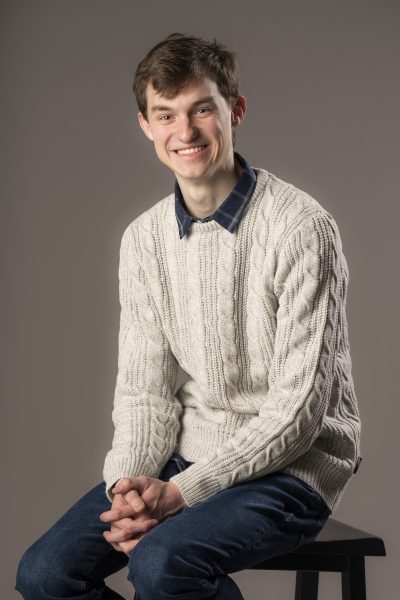 "One thing that I think is really powerful about music is its ability to express so many different emotions and affect others in a special way too," said the Nashville native, who started taking classes in the Blair Academy precollege program six and a half years ago.
"I love the ability to connect with others in meaningful ways and portray my emotions and just, you know, play my heart out," he said.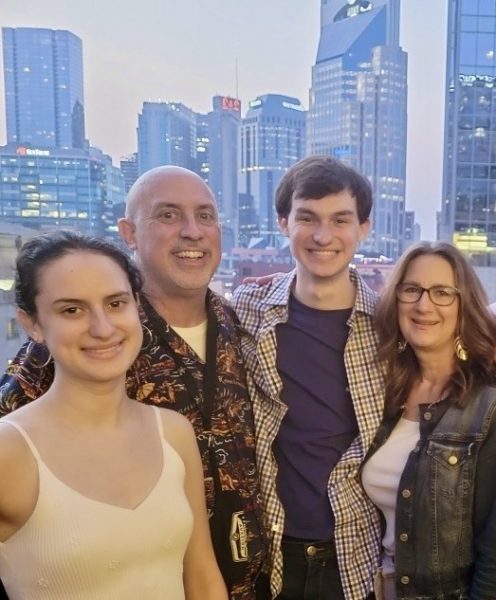 Allen, a recipient of the Mark Wait Piano Scholarship, started playing piano when his grandmother introduced him to the score of Phantom of the Opera at age 7. She was his first teacher. His father often stayed within earshot to share in his progress and encouraged him to play pop and rock music, especially the Beatles.
The three shared a special musical bond, which made the deaths of his father in 2021 and his grandmother in 2022 even more poignant.
"My dad was diagnosed with cancer, and even in the last days of his life, when he didn't feel well enough to talk, I was still able to play piano for him," Allen said. "They say hearing is the last sense to go, so I was still able to connect with him and have a musical dialogue in the final days of his life. I'm so, so grateful for the musical gifts that I have so I could connect with him in that way."
NIGHTINGALES IN THE WINGS
Allen's experience with his dad inspired him to help lead a student-run program where students perform for people in hospitals and elder care facilities—Nightingales in the Wings.
"Music can be very healing in a lot of ways. And one of the beautiful things I think about this organization is that we're able to bring the healing of music to others," he said.
INSPIRED TO TEACH
One of Allen's other passions is teaching. He volunteers at the W.O. Smith Music School, where low-income families can receive high-quality instruction.
"After teaching for the first time, I was so, so excited," he said, laughing. "I thought, 'Wow, I might be able to get to do this for the rest of my life!'"
He is auditioning at some of the most prestigious conservatories in the country to pursue his graduate and doctoral education.
"My goal is to teach at the collegiate level, very similar to what my Blair professors do," he said. "Helping others to better collaborate and play is really exciting."
Allen is also an experienced saxophonist and said he would like to work with other professionals in chamber groups playing piano and saxophone.
COLLABORATION AND GROWTH
Allen has worked with a number of student composers premiering their original works.
"I think one of the most significant and special moments in my Blair career has definitely been back in December when my friend Nicholas Edwards wrote a four-movement piano concerto that I was able to premiere with a small orchestra," he said. "There's that sense of collaboration, working with the composer and being able to bring their intentions to life in real time."
Allen recognizes how much he has grown in his time at Vanderbilt.
"Throughout all of the experiences I've had to deal with, whether it's COVID or my dad and my grandmother passing away, I've found that I have a lot more resilience than I thought. And from a music-specific lens, I really feel like I've grown and become more of the musician that I want to be. Without me being here at Vanderbilt, that wouldn't have happened."
THREE QUESTIONS…
WHAT WILL YOU MISS ABOUT VANDERBILT?
"I will truly miss these close personal relationships built at Vanderbilt. The small size at Blair really lends itself well to close relationships and connections with the faculty and the other students."
MESSAGE TO THE VANDERBILT COMMUNITY?
"I'm very grateful for all of the support and kindness that everybody has shown me throughout my time here. All of the faculty members that I've encountered and all of the friends and peers that I've had have been so supportive and helpful as I've dealt with so much loss. And also as I've become and grown into the person that I am today…I think that's probably the most significant thing—all the support."
VANDERBILT IS…
"To me, Vanderbilt is a vibrant sense of community and collaboration. And one that is very supportive and engaging and very mentally, academically and musically stimulating."