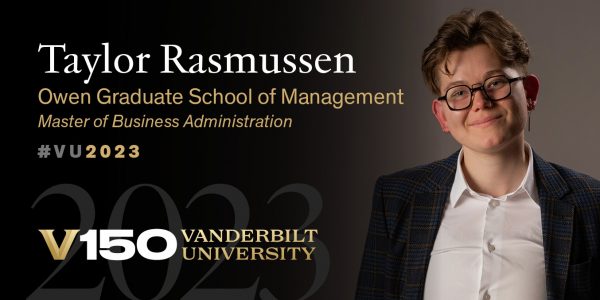 By Amy Wolf
It sounds like the plot of a show—actor and playwright leaves the bright lights of New York City to follow a new dream of effecting positive change through business. That dream brings our hero to Nashville and the Vanderbilt Owen Graduate School of Management.
But this isn't fiction. It's the life of Taylor Rasmussen, MBA'23.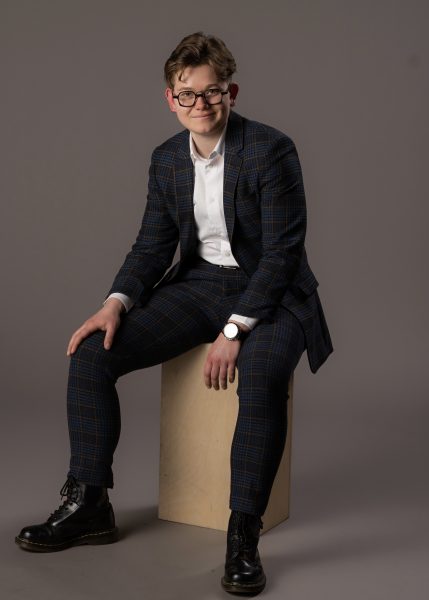 "I'm specializing in human and organizational performance and strategy," said Rasmussen, who grew up in Hinsdale, Illinois, and goes by the pronouns he/him and they/them. "I love these two focuses together because I think strategy is foundational to making business decisions and igniting change. And in order to ignite change meaningfully, you need to be able to inspire people."
Rasmussen said the COVID pandemic gave them the time to pause and reflect.
"I was fortunate that I did have a steady day job and a steady stream of theater work that I found fulfilling. All of these things were in alignment with my goals and the trajectory I saw for myself. But there were a lot of unknowns," he said. "Then during COVID I had time to slow down and reimagine my goals."
Rasmussen said the skills learned at Owen could put them in a place to be a decision-maker on the business side of theater, while also understanding and appreciating the acting side. After graduation, he's going to work at JPMorgan Chase as a part of the company's associate program.
CREATING BELONGING
Rasmussen said his somewhat untraditional path to business school created an initial sense of impostor syndrome. "I think a lot of people going into graduate programs feel impostor syndrome at first. Those worries turned out to be unfounded, but I still had them initially."
Because of that, Rasmussen was passionate about creating a space where people of all backgrounds could come together.
"It was important to me right out the gate to foster a sense of community that would let anybody else who felt out of place, or weird, or different or like their background wasn't a typical fit for business school feel welcome. I wanted to build a place where they could come, and maybe we could just all be weird and different together," they said.
Rasmussen invested time in the Diversity, Equity and Inclusion committee and led the successful series Humans of Owen, which started on social media and has evolved into a series of in-person storytelling events.
"It's an opportunity for folks in the Owen community to come together and share a story," Rasmussen said. "We've had stories of love, grief, loss, resilience. It's an opportunity to tear down some of those walls and shed that veneer and just listen to each other.
"What I've discovered here at Vanderbilt is that I can be who I actually am and succeed in a lot of different spaces."
THREE QUESTIONS…
HOW DO YOU FIND COLLABORATION?
"Collaboration is all about figuring out what your strengths and areas for improvement are and naming those candidly, and then figuring out how you and your peers support each other given those different skill sets. I think coming from the arts, you know what your pocket is. Like, for example: 'I'm a great Romeo, I'm not a great Juliet. And someone out there is a great Juliet. And if the two of us are on stage together, sparks will fly.' Collaboration in the business school is exactly the same way. I can deliver a speech to a roomful of people, and my buddy who can run numbers like a champion might be really, really nervous. Stick the two of us on a team together—we're going to be unstoppable."
MESSAGE TO THE VANDERBILT COMMUNITY
"If I were to give a send-off message to my classmates and my professors and the wonderful admins and staff—just everyone who has made Owen what it is—I would say a couple of things. Remember that no idea is a bad idea, no matter who it comes from. So listen and take and give feedback in an open-hearted way. And appreciate that everyone's a person and everyone's got someone or something they love."
VANDERBILT IS… 
"To me, Vanderbilt is beautifully human."