The Campus Reading for the 2023–24 academic year will be Now Is Not the Time to Panic by Kevin Wilson, BA'00. The book was chosen by a committee of faculty and students and launches community-wide dialogue that begins during orientation and continues throughout the year in houses on The Martha Rivers Ingram Commons, Vanderbilt Visions and transfer groups, and across campus. 
"The Campus Reading welcomes our first-year students into the spirit of inquiry and vibrant discussion that we value so highly here at Vanderbilt," Provost Cybele Raver said. "I truly enjoyed this book—it raises a number of intriguing questions, it made me think harder about the power of art to provoke and engage us as a community, and I can't wait to hear others' perspectives."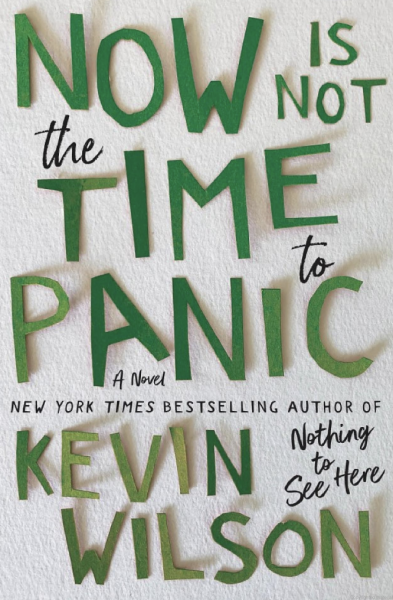 The book, a story of self-discovery, young love, and the exploration of what it means to belong in a community, underscores the 2023–24 Martha Rivers Ingram Commons programming theme of "Be/longing." This theme, familiar to anyone who has gone through a life transition like the transition to college, will help anchor conversations throughout the year, explained Melissa Gresalfi, dean of residential colleges and residential education.  
"Now Is Not the Time to Panic invites us to think about the dual themes of trying to find our place while simultaneously looking forward to where we are headed," Gresalfi said. "It is a search for 'being' while also longing to find another place, and that tension, throughout, evokes our desire for belonging.  What's important to us in Residential Colleges is that belonging is not only something that we wish for ourselves, but also something that we can do for others." 
Selection committee member Isaac West, associate professor of communication studies, noted the realistic dialogue of the book and the opportunity it gives the reader to consider topics such as moral panics, responsibility, the interconnected webs of relationships, and how to reflect on our actions as we age.  
"We had a number of great options, and what set Wilson's book apart from the others is how it explores the complexity of teenage life," West said. "The characters' struggles to craft their identities will be relatable to students." 
Wilson, an associate professor of English at Sewanee: The University of the South, will deliver the 17th annual Lawson Lecture on Sept. 10, highlighting the themes of Now Is Not the Time to Panic. The lecture will be open to all Vanderbilt community members, with priority seating reserved for new students, orientation leaders and faculty VUceptors. 
All first-year and transfer students with a domestic mailing address will receive a physical copy of the book in the mail before fall move-in. Students with an international mailing address will be emailed a digital copy of the book. All incoming students are asked to complete a reflective essay on the Campus Reading before the start of classes.