Media Inquiries
Latest Stories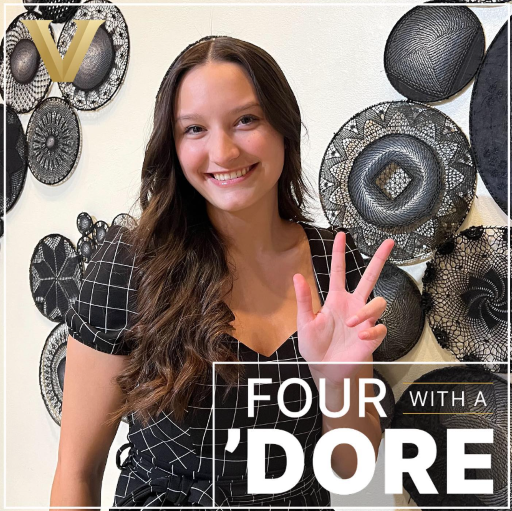 In the Four With a 'Dore series, we're getting to know Vanderbilt students four questions at a time. In today's installment, meet Rhylee Tucker from the Class of 2025, a Pauls Valley, OK native with a major in theater and a minor in history.
Q: Where did you find your sense of belonging on campus?
A: As a theater major, I'd have to say the student acting and singing organizations on campus like Vanderbilt Off Broadway, Melanated A Cappella and the Vanderbilt Theater Department. Those have given me the strongest sense of belonging because it's where I'm most comfortable. I also love my sorority, Alpha Chi Omega, where my sisters encourage me to be the best person I can be, especially academically.
Q: Where is your favorite study spot on campus?
A: I love Buttrick for when I'm working on very normal assignments. The buzz of student life is very present there and it helps me hone in. But EBI Library is where I go when I really need to focus. It's got a great dark academia vibe and everyone has this consensus that we're going to be quiet.
Q: How have you embraced collaboration as a Vanderbilt student?
A: I'm directing the Vanderbilt New Play Festival this year where Vanderbilt picks seven plays written by students and chooses applicants to direct them. I had taken a directing class last semester and really wanted to see what I could do, so I applied and was chosen and am now directing a great play called "Greenwood" by playwright Eli Crenshaw. There's collaboration involved in everything from casting to working with lighting and design and costumes. I think it's really cool and I hope to do more of it, especially in my upcoming immersion project.
Q: What's your favorite thing to do in Nashville?
A: I love the Nashville Shakespeare Festival, which is a great festival with an outdoor stage and food trucks everywhere. It's great to see people come out and sit on the lawn together. I've seen "Gem of the Ocean" and "Cymbeline" there, and they also host a concert with local artists. There's so much for me in Nashville, I love every minute of it and I wouldn't change it for the world.