Media Inquiries
Latest Stories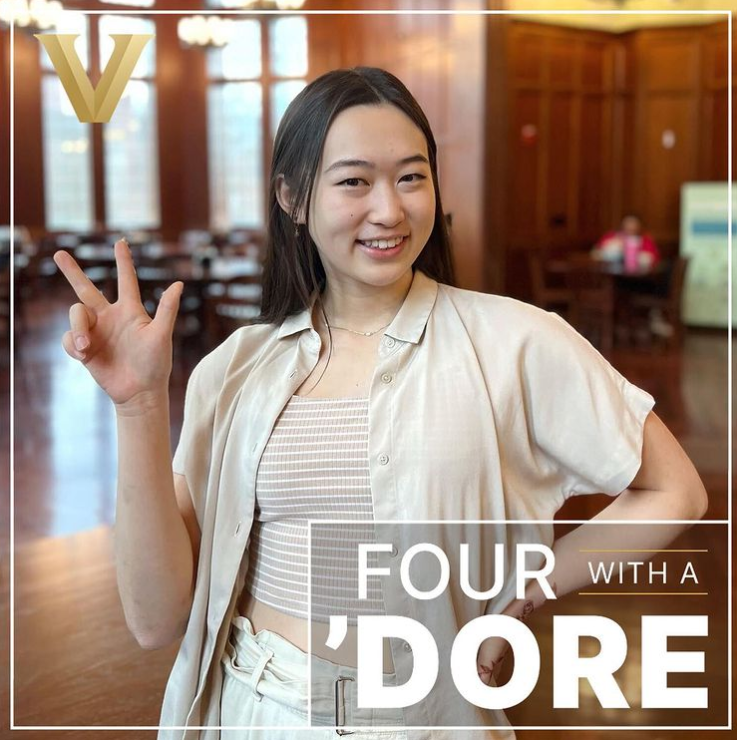 In the Four With a 'Dore series, we're getting to know Vanderbilt students four questions at a time. In today's installment, meet Phoebe Yu from Vancouver, Canada, a student from the Class of 2025 double majoring in cognitive studies and architecture with a minor in computer science.
Q: Where did you find your sense of belonging on campus?
A: Shout out to everyone at Change++, which is a tech organization that develops software for nonprofit organizations. Since last semester, I've had the chance to work with developers, project managers and engineering managers. I've learned so much about software and tech, and also how to work with people from all different backgrounds and skill sets.
Q: Where is your favorite study spot?  
A: I have to give it to @TheWondry! I feel so inspired in the Wond'ry. There's so much natural sunlight and I feel like I can get anything done there.
Q: How have you carved your own path as a Vanderbilt student?
A: I want to go into UX design in the future, and even though there is no major for this field, I was able to create an interdisciplinary schedule that helps me gain knowledge to prepare for that industry. I really appreciate how flexible Vanderbilt is when it comes to creating your own path.
Q: What is your biggest accomplishment so far as a Vanderbilt student?  
A: Winning last year's VandyHacks Hackathon. It was a 36-hour adventure with lots of late nights and great memories. It was definitely a team effort and I really appreciated that everyone involved was super passionate and committed. It was an unbelievable moment and I'm still trying to process it.
For more Four With A 'Dore content, visit the Vanderbilt Instagram.