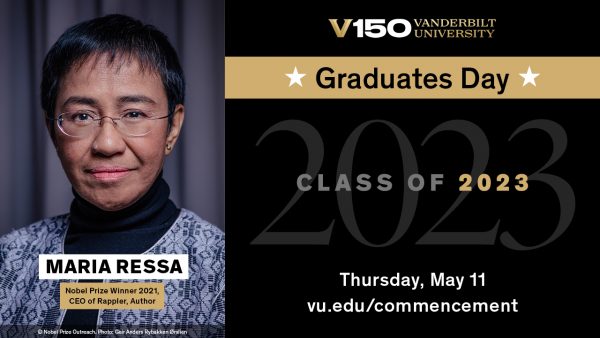 Maria A. Ressa, an internationally acclaimed journalist who has endured political threats and government arrests for her commitment to truth and democracy, will receive Vanderbilt University's prestigious Nichols-Chancellor's Medal when she speaks to the university's graduating students and their families during 2023 Commencement activities. Ressa's address will be on May 11 at 11 a.m. on campus.
The Nichols-Chancellor's Medal, one of the university's highest honors, is given to individuals who define the 21st century and exemplify the best qualities of the human spirit. It was created and endowed by Vanderbilt Law School graduate Ed Nichols and his wife, Janice, in honor of Edward Carmack and Lucile Hamby Nichols.
Ressa received the Nobel Peace Prize in 2021 for her efforts to safeguard freedom of expression while being persecuted by the administration of Rodrigo Duterte, president of the Philippines from 2016 to 2022.
"Maria Ressa is an inspiration for anyone who values open inquiry, fact-based debate and the free exchange of ideas and opinions—as we do at Vanderbilt," Chancellor Daniel Diermeier said. "We are honored to have her address our graduating students as the 2023 Nichols-Chancellor's Medalist, and I expect that her bravery, tenacity and commitment to the public good will provide a compelling example for our graduates as they consider the next chapters of their lives."
Ressa is the co-founder and CEO of Rappler, the leading digital news site in the struggle for press freedom in the Philippines. Her experiences while reporting on abuses of the Duterte government are explored in the Sundance Festival documentary A Thousand Cuts. She is the author of Seeds of Terror: An Eyewitness Account of Al-Qaeda's Newest Center of Operations in Southeast Asia and From Bin Laden to Facebook: 10 Days of Abduction, 10 Years of Terrorism.
Her third book, How to Stand up to a Dictator, is an urgent cry for readers to recognize and understand the dangers to our freedoms before it is too late.
Ressa was born in the Philippines but grew up in the United States after her family migrated to Toms River, New Jersey, in 1973. She graduated cum laude from Princeton University with a bachelor of arts in English and certificates in theater and dance. She returned to Manila on a Fulbright fellowship in 1986 and worked for the newly liberated government station, People's Television 4, as director of newscasts, then as head of its special projects team. In 1987, she began reporting for CNN and opened and ran CNN's bureau in Manila for nearly a decade before starting the network's Jakarta bureau, which she led from 1995 to 2005. During that time, she joined ABS-CBN as the director and producer of Probe, the first and longest-running investigative news magazine in the Philippines.
In 2018, Ressa was among a group of journalists honored by Time magazine as Person of the Year for their efforts to protect the free press, despite being violently attacked or hit with criminal charges. Time also listed her as one of the 100 Most Influential People of 2019 and Most Influential Women of the century. Also during 2019, she was named one of the BBC's 100 most inspiring and influential women and on Prospect magazine's list of top 50 thinkers of the world. In 2020, she received the John Aubuchon Press Freedom Award, the Most Resilient Journalist Award and the Truth to Power Award, among others. UNESCO awarded her the Guillermo Cano World Press Freedom Prize in 2021.
Her other awards include the Golden Pen of Freedom Award from the World Association of Newspapers and News Publishers, the Knight International Journalism Award from the International Center for Journalists, and the Gwen Ifill Press Freedom Award from the Committee to Protect Journalists. She is a co-founder of the Real Facebook Oversight Board, a watchdog group of academics, journalists and activists who are striving to hold the social media platform accountable to protect its users and global democracy.
Past recipients of the Nichols-Chancellor's Medal include Reid Hoffman, Dr. Anthony Fauci, Caroline Kennedy, Venus Williams, Amal Clooney, Toni Morrison and Condoleezza Rice, among others.
Ressa's address will be part of the university's 2023 Commencement celebrations. The event will also be livestreamed. Graduates Day celebrates all graduates and traditionally occurs the day before the university's Commencement ceremony, which is scheduled this year on May 12.